Do what you can, and ask for what you cannot
November 16, 2014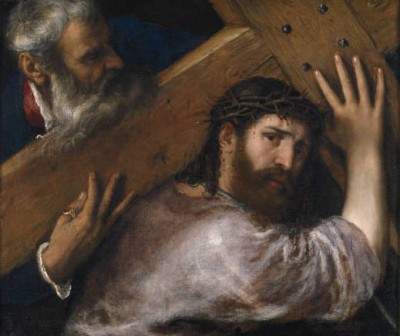 A Pastoral Query Answered
There was in the October 22, 2014 Responsum of the Congregation for the Doctrine of the Faith to a French priest's query concerning absolution to a penitent who, having been religiously married, has contracted a second union following divorce, a phrase shining with hope and consonant with the pastoral wisdom of the saints: "with the aid of grace".
The Silence Around Grace
In much of the thorny discussion surrounding doctrine and sacramental discipline surprisingly little is said about grace. It is this want of reference to and of confidence in grace that causes the discourse of some to sound akin to that of those who "bind heavy and insupportable burdens, and lay them on men' s shoulders" (Matthew 23:4). What needs to be proclaimed from the rooftops and in every corner of the ecclesiastical blogosphere is the message of the Apostle:
There was given me a sting of my flesh, an angel of Satan, to buffet me for which thing thrice I besought the Lord, that it might depart from me. And he said to me: My grace is sufficient for thee; for power is made perfect in infirmity. Gladly therefore will I glory in my infirmities, that the power of Christ may dwell in me. For which cause I please myself in my infirmities, in reproaches, in necessities, in persecutions, in distresses, for Christ. For when I am weak, then am I powerful. (2 Corinthians 12: 7–10)
Dominican Teachers and Preachers of Grace
I was privileged many years ago to study under wise Dominican Fathers — I am thinking fondly of the RR.PP. Urban Mullaney, Giles Dimock, Justin Hennessy, and others — who never tired of speaking of grace. It is priests such as these fine Dominicans, who, by teaching the mystery of grace in the lecture hall and by preaching it in church, keep souls from hurling themselves over the dizzying precipice of despair. Priests who teach the mystery of grace and preach it summon souls to the heights of heroic virtue and show them the means of getting there.
With the Aid of Grace
L'Abbé Barthe, commenting on this phrase in the November 12, 2014 edition of L'Homme nouveau, writes:
Selon saint Augustin : « Dieu ne te commande pas de choses impossibles, mais en commandant Il t'invite à faire ce que tu peux et à demander ce que tu ne peux pas ». Le concile de Trente ajoutait, en glosant saint Paul : « Il t'aide à pouvoir » (Dz 1536).
According to St. Augustine: "God does not command you to do impossible things, rather, in commanding he invites you to do what you can, and to ask for what you cannot." The Council of Trent adds, glossing St. Paul, "and God helps you and makes you able" (Dz 1536)
This is a message of mercy and hope, entirely consonant with the universal call to holiness and with the costly practice of virtue in every state of life. This is a message that needs to be repeated by priests in the confessional and in the pulpit until it reaches the hearts of those who, weary of the struggle, are tempted to despair. "Do what you can and ask God for what you cannot. God will help you and make you capable of those things that, of your self and by yourself, you cannot do".
Heroic Virtue for All
We priests do souls no service when we say, or even intimate, that heroism is not for ordinary Christians. If holiness is the practice of heroic virtue; and if all people, in every state of life, are called to holiness; then all people, in every state of life are called to heroic virtue. Heroic virtue is the fruit, not of an exhausting effort of the will but, rather, of a humble surrender to the all–sufficient grace of Jesus Christ, which grace is ministered to souls through the sacraments, and through the gentle interventions of the Blessed Virgin Mary, appointed by God to be His ministra gratiarum.
Do Thou in Me Whatsoever Thou Desirest to Find in Me
We shall be surprised, I think, one day, to see in the light of glory the shining faces of a multitude of ordinary people beset by every manner of weakness who will have practiced heroic virtue by doing what they could and by asking for what they could not. In my own life I have often found myself repeating a prayer composed by Mother Yvonne–Aimée. It is a prayer that I have, over the years, recommended again and again to my penitents:
O my Jesus, do thou in me whatsoever Thou desirest to find in me, so as to draw out of my nothingness all of the love and all of the glory which Thou didst have in view when Thou didst create me.