Father Willie Doyle: Scruples and Their Treatment
October 9, 2012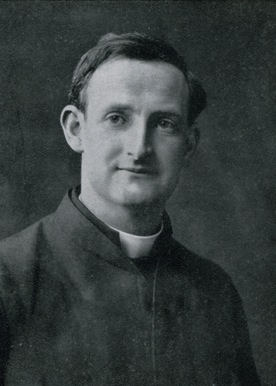 More than one reader has shared with me that the most helpful thing written on scruples and their treatment is a little pamphlet by Father Willie Doyle, S.J. Here is the link to Father Doyle's pamphlet: Personally, I would recommend that anyone struggling with scruples should not only read his pamphlet, but also seek his intercession. Father Willie Doyle is a powerful intercessor, and his burning desire in heaven is no different from the one that consumed him on earth: to make known the love of God, and to make God loved.
Excerpt from Father William Doyle's Pamphlet:
It is a fundamental truth that we cannot love God unless we believe in His love for us. Scrupulosity completely represses such a belief, and thus paralyses all generous effort. At every moment it creates trouble between the soul and its Creator by pessimistic feelings about the past, and about its present dispositions and actions. The conclusions foolishly arrived at under the influence of these feelings boldly give the lie to the wise decisions of the confessor, and lead the soul to rebel against his spiritual guidance, and to put itself at the mercy of its enemy.
Soon the soul, seriously believing itself to be in a bad way, becomes discouraged, and often begins to commit real sin.
Even though sin does not follow from scruples, scrupulosity, nevertheless, retards the soul's progress in several other ways. It represents prayer as full of difficulties. It stops the ears of the poor downcast soul to the consoling voice of the Holy Ghost. It destroys confidence. It prevents the frequentation of the Sacraments, and thus stops their strengthening effects. It almost takes away the power of resisting temptation. It causes discouragement, and may even lead to despair.