Ut gaudium meum in vobis sit
October 3, 2008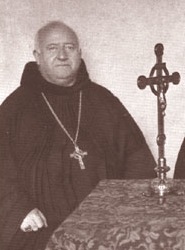 At Today's Second Nocturn
This is what I read at the Second Nocturn of Matins this morning. It is a good example of what gives the writings of Blessed Abbot Marmion their distinctive unction. They have a comforting, penetrating quality that comes from His extensive use and repetition of the words of Sacred Scripture. In this brief passage of less than two pages, he quotes Sacred Scripture eleven times. Abbot Marmion had the habit of giving the same text twice, once in English (or French), and then in Latin, the language of the sacred liturgy in which the Word of God came to him by dint of repetition in the Mass and Divine Office.
Marmion and the Year of Saint Paul
Abbot Marmion is a worthy companion for this Year of Saint Paul. He, more than any other popular spiritual writer of the last century, made the teachings of Saint Paul come to life for his readers. Not surprisingly, Saint Paul and Saint John are the two biblical sources that appear most frequently in his writings; the Abbot knew them practically by heart.
A Reading from Christ in His Mysteries by the Blessed Columba Marmion, O.S.B.
Let us remain faithful to Jesus in spite of everything.
We have heard that He is the Son of God, equal to God;
His words do not pass away: He is the Eternal Word.
Now, He affirms that he that follows Him shall have the "light of life":
Habebit lumen vitae (Jn 8, 12).
Happy the soul that listens to Him, and Him only,
and listens always, without doubting His word,
without being shaken by the blasphemies of His enemies,
without being overcome by temptation or cast down by trial!
We know not, says Saint Paul, what a weight of glory is laid up for us
in return for the least suffering borne in union with Christ Jesus (cf. 2 Cor 4, 17).
"God is faithful" (1 Cor 1, 9; 10, 13, 2 Thess 3, 2);
and in all the vicissitudes through which a soul passes,
God infallibly leads her to this transformation
which makes her like unto His Son.
Thus our transformation into Jesus is inwardly brought about,
little by little, until the day comes when the soul will appear radiant
in that company of the elect who bear the mark of the Lamb,
those whom the Lamb transfigures because they are His own.
Our Lord Himself promised this to us.
"The world shall rejoice" (Jn 16, 20), He said before leaving us,
but here below you shall be in sorrow and trial as I was
before entering into my glory:
Opportuit pati Christum et ita intrare in gloriam suam (Lk 24, 26).
That is necessary, it is the way of My providence;
but remain steadfast.
"Have confidence," confidite (Jn 16, 33).
"I am with you all days, even to the consummation of the world" (Mt 28, 20).
Now your faith receives Me each day in the mystery of My self-abasement,
but I will come one day in the full revelation of My glory.
And you, My faithful disciples, shall share this glory,
for you are one with Me.
Did I not ask this of My Father when about to pay the price of it by My Sacrifice?
"Father, I will that where I am, they also whom Thou hast given Me
may be with Me; that they may see My glory which Thou hast given Me,
because Thou hast loved Me before the creation of the world":
Pater, VOLO ut ubi sum ego, et ill sint MECUM,
ut videant claritatem meam quam dedisti mihi (Jn 17, 24).
As for you whom I have called My friends,
to whom I have confided the secrets of My Divine life, as My Father ordained;
you who have believed, and have not left Me,
you shall enter into My joy, and live by Me.
Full life, perfect joy, because it will be My own life and My personal joy
that I will give you.
My life and My joy as Son of God,
Ut gaudium MEUM in vobis sit,
et gaudium vestrum IMPLEATUR (Jn 15, 11).