Marcella: The Glory of the Ladies of Rome
January 31, 2007
Today is not only the feast of Saint John Bosco, the gentle spiritual father of countless children and young people, it is also the feast of Saint Marcella of Rome. Saint Jerome called Marcella "the glory of the ladies of Rome."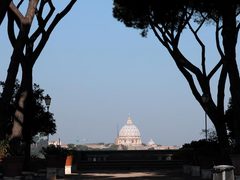 As a young girl Marcella met Saint Athanasius; his stories of the Desert Fathers of Egypt enthralled her. Marcella married but was widowed after only seven months. Saint Jerome lodged in Marcella's house on the Aventine. Today one has this marvelous view from the Aventine.
The young widow's home became an academy for the study of Sacred Scripture and a school of prayer. Saint Paula and other Roman ladies joined her. Marcella was a woman of no mean intellectual prowess. While she respected her spiritual father Jerome, he did not intimidate her. More than once she challenged him with difficult and subtle questions concerning the Scriptures. It was for Marcella that Saint Jerome wrote his explanation of the Hebrew words Amen and Alleluia.
In a letter to the Roman lady Principia, Saint Jerome compares Marcella to the prophetess Anna in Saint Luke's Gospel. "Let us then compare her case with that of Marcella," he says, "and we shall see that the latter has every way the advantage. Anna lived with her husband seven years; Marcella seven months. Anna only hoped for Christ; Marcella held Him fast. Anna confessed Him at His birth; Marcella believed in Him crucified. Anna did not deny the Child; Marcella rejoiced in the Man as king" (Saint Jerome, Letter 127). This is Jerome's spiritual portrait of Marcella: she clung to Christ, believed in Him crucified, and rejoiced in Him as King.