Turn Your Eyes to the Virgin
May 11, 2007
I more or less promised Our Lady that I would offer something in her honour on Vultus Christi every day during the month of May. I don't know if I will be able to do it while in France. Here is a magnificent text from our Cistercian Adam of Perseigne. The last lines — at least for me — bring to mind Our Mother of Perpetual Succour.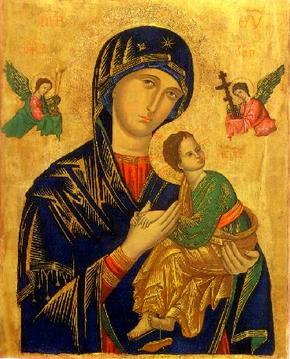 If your faith is shaken by assault from an enemy
turn your eyes to the Virgin
and what was wavering will be firmly fixed.
If the lust of the flesh delights you
turn your gaze to the Virgin
and the danger to your chastity will be removed.
If pride disturbs your spirit
turn your gaze to the Virgin
and by the merit of her unsullied humility
your swelling spirit will subside.
If you are set on fire by anger's torches,
lift your eyes to the Virgin
and you will grow gentle through her calm.
If ignorance or error have led you astray from the way of life,
look to Mary, Star of the Sea,
and in her light you will be led back to the path of truth.
If the vice of avarice commands your idolatrous worship,
call to mind the generosity of the Virgin
and with a love of poverty there will come to you
the goodness of openhandedness.
In every peril
the goodness of the Virgin comes to succour
and power to succour it is.