O Augusta Regina delle Vittorie
October 3, 2015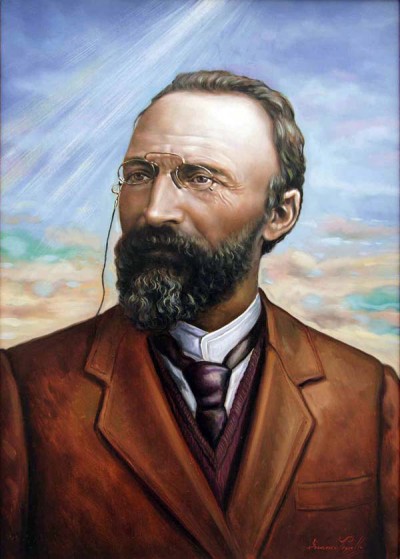 Prayer at Noon
For Catholics in Italy and throughout the world, Sunday, 4 October 2015, marks the return of an appointment with the Supplica, the passionate supplication to the Madonna of the Rosary, born in the heart of Blessed Bartolo Longo.
132nd Anniversary of the Supplica
Blessed Bartolo Long wrote his inspired petition to the Queen of the Holy Rosary 132 years ago, in 1883. The lengthy supplication has lost nothing of its power to soften even the most hardened hearts; it continues to obtain graces in abundance from the hands of the Madonna of the Rosary. It is a prayer for all peoples and for universal peace, a prayer for the whole Church: for the Holy Father, for the bishops and their clergy, and for the lay faithful of every state in life, with their special intentions, their burdens, and their hopes.
The Supplica is, of all Blessed Bartolo Longo's published prayers to the Mother of God, the most famous. Its incandescent words have opened countless souls to the merciful love of Christ through the all-powerful intercession of His Mother.
The Supplica is a prayer that people have made their own. It is known on every continent; it has been translated into hundreds of languages. No authority ever imposed it, it is not part of the liturgy of the Church, and yet, it has become universal.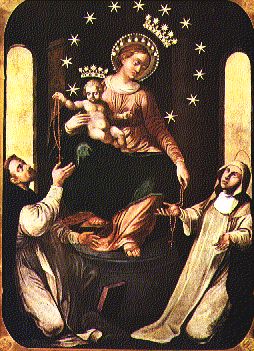 A Prayer of the Heart
Certain rationalistic types sniff with disdain at the Supplica. They see it as representative of an unenlightened, sentimental, southern Italian piety bordering on superstition. They find its emphases embarrassing, its display of emotion unnerving.
Rich in Sentiment
The literary style of Blessed Bartolo Longo is the expression of his own character. He was capable of gentleness and of passion. He was, like all meridionals, rich in sentiment and quick to express it both in song and in tears. He was moved, before all else, by the reason of the heart.
The Discovery of Truth Through Love
Blessed Bartolo Longo, a Dominican Tertiary, was a lover of Truth; but his particular grace was the discovery of Truth through love. He found Truth, not in syllogisms and in concepts, but in the Heart and on the Face of the Word Made Flesh in the womb of the Virgin, and held in her arms.
The Prayer of One Delivered From Evil
The Rosary was the means by which, at the age of twenty-eight, a confused and desperate Avvocato Bartolo Longo — a practicing Satanist and medium at the time — was converted to the Truth and delivered from the powers of darkness. He vowed that he would spend his life proclaiming to others the Rosary's liberating and healing power. This is why, at the end of the Supplica, he exclaims: "O blessed Rosary of Mary, sweet chain which unites us to God, bond of love which unites us to the angels, tower of salvation against the assaults of hell, safe port in our universal shipwreck, we shall never abandon you."
Bound to Mary by the Rosary
Even pious folks may find the Supplica a bit too baroque, a bit overdone. It may be the Borboni southern Italian blood (mixed with Irish) that runs hot in my veins, but I love the Supplica and I plan on saying it in communion with thousands of other people. It is the prayer of a man very like myself: a poor sinner who fears nothing when he holds the Rosary in his hands, knowing that the Mother of God holds her end of the chain, and will not let it go.
Here is the text:
Supplica alla Madonna di Pompei
(da recitarsi l'8 maggio e la prima domenica di ottobre a mezzogiorno)
I. – O Augusta Regina delle vittorie, o Vergine sovrana del Paradiso, al cui nome potente si rallegrano i cieli e tremano per terrore gli abissi, o Regina gloriosa del Santissimo Rosario, noi tutti, avventurati figli vostri, che la bontà vostra ha prescelti in questo secolo ad innalzarvi un Tempio in Pompei, qui prostrati ai vostri piedi, in questo giorno solennissimo della festa dei novelli vostri trionfi sulla terra degl'idoli e dei demoni, effondiamo con lacrime gli affetti del nostro cuore, e con la confidenza di figli vi esponiamo le nostre miserie.

Deh! da quel trono di clemenza ove sedete Regina, volgete, o Maria, lo sguardo vostro pietoso verso di noi, su tutte le nostre famiglie, sull'Italia, sull'Europa, su tutta la Chiesa; e vi prenda compassione degli affanni in cui volgiamo e dei travagli che ne amareggiano la vita. Vedete, o Madre, quanti pericoli nell'anima e nel corpo ne circondano: quante calamità e afflizioni ne costringono! O Madre, trattenete il braccio della giustizia del vostro Figliuolo sdegnato e vincete colla clemenza il cuore dei peccatori: sono pur nostri fratelli e figli vostri, che costarono sangue al dolce Gesù, e trafitture di coltello al vostro sensibilissimo Cuore. Oggi mostratevi a tutti, qual siete, Regina di pace e di perdono.

Salve Regina.

II. – È vero, è vero che noi per primi, benché vostri figliuoli, coi peccati torniamo a crocifiggere in cuor nostro Gesù, e trafiggiamo novellamente il vostro Cuore. Sì, lo confessiamo, siamo meritevoli dei più aspri flagelli. Ma Voi ricordatevi che sulla vetta del Golgota raccoglieste le ultime stille di quel sangue divino e l'ultimo testamento del Redentore moribondo. E quel testamento di un Dio, suggellato col sangue di un Uomo-Dio, vi dichiarava Madre nostra, Madre dei peccatori. Voi, dunque, come nostra Madre, siete la nostra Avvocata, la nostra Speranza. E noi gementi stendiamo a Voi le mani supplichevoli, gridando: Misericordia!

Pietà vi prenda, o Madre buona, pietà di noi, delle anime nostre, delle nostre famiglie, dei nostri parenti, dei nostri amici, dei nostri fratelli estinti, e soprattutto dei nostri nemici, e di tanti che si dicono cristiani, e pur dilacerano il Cuore amabile del vostro Figliuolo. Pietà, deh! pietà oggi imploriamo per le nazioni traviate, per tutta l'Europa, per tutto il mondo, che torni pentito al cuor vostro. Misericordia per tutti, o Madre di Misericordia.

Salve Regina.

III. – Che vi costa, o Maria, l'esaudirci? Che vi costa il salvarci? Non ha Gesù riposto nelle vostre mani tutti i tesori delle sue grazie e delle sue misericordie? Voi sedete coronata Regina alla destra del vostro Figliuolo, circondata di gloria immortale su tutti i cori degli Angeli. Voi distendete il vostro dominio per quanto son distesi i cieli, e a Voi la terra e le creature tutte che in essa abitano sono soggette. Il vostro dominio si estende fino all'inferno, e Voi sola ci strappate dalle mani di Satana, o Maria.

Voi siete l'Onnipotente per grazia. Voi dunque potete salvarci. Che se dite di non volerci aiutare, perché figli ingrati ed immeritevoli della vostra protezione, diteci almeno a chi altri mai  dobbiamo ricorrere per essere liberati da tanti flagelli.

Ah, no! Il vostro Cuore di Madre non patirà di veder noi, vostri figli, perduti. Il Bambino che noi vediamo sulle vostre ginocchia, e la mistica corona che miriamo nella vostra mano, c'ispirano fiducia che noi saremo esauditi. E noi confidiamo pienamente in Voi, ci gettiamo ai vostri piedi, ci abbandoniamo come deboli figli tra le braccia della più tenera fra le madri, ed oggi stesso, sì, oggi da Voi aspettiamo le sospirate grazie.

Salve Regina.

Chiediamo la benedizione a Maria.

Un'ultima grazia noi ora vi chiediamo, o Regina, che non potete negarci in questo giorno solennissimo. Concedete a tutti noi l'amore vostro costante, e in modo speciale la vostra materna benedizione. No, non ci leveremo dai vostri piedi, non ci staccheremo dalle vostre ginocchia, finché non ci avrete benedetti.

Benedite, o Maria, in questo momento, il Sommo Pontefice. Ai prischi allori della vostra Corona, agli antichi trionfi del vostro Rosario, onde siete chiamata Regina delle vittorie, deh! aggiungete ancor questo, o Madre: concedete il trionfo alla Religione e la pace alla umana società. Benedite il nostro Vescovo, i Sacerdoti e particolarmente tutti coloro che zelano l'onore del vostro Santuario.

Benedite infine tutti gli Associati al vostro novello Tempio di Pompei, e quanti coltivano e promuovono la divozione al vostro Santo Rosario.

O Rosario benedetto di Maria; Catena dolce che ci rannodi a Dio; Vincolo di amore che ci unisci agli Angeli; Torre di salvezza negli assalti d'inferno; Porto sicuro nel comune naufragio, noi non ti lasceremo mai più. Tu ci sarai conforto nell'ora di agonia; a te l'ultimo bacio della vita che si spegne. E l'ultimo accento delle smorte labbra sarà il nome vostro soave, Regina del Rosario della Valle di Pompei, o Madre nostra cara, o unico Rifugio dei peccatori, o sovrana Consolatrice dei mesti. Siate ovunque benedetta, oggi e sempre, in terra e in cielo. Così sia.

Salve Regina.

(vero testo della Supplica scritta dal beato Bartolo Longo)

Supplication to the Queen of the Most Holy Rosary of Pompeii
English Translation by Brendano Giovane
I
O August Queen of Victory, O Virgin Sovereign of Paradise, at Whose powerful Name the Heavens rejoice and the abysses tremble for fear, O glorious Queen of the Most Holy Rosary, all of us, Thy wayward children, whom Thy goodness has elected in this age to raise up to Thee a Temple in Pompeii, here prostrate at Thy feet, in this most solemn festival of Thy new triumphs over the land of idols and of demons, pour out with tears the affections of our hearts, and with the confidence of children, we express our miseries.
Deign, O Mary, from that throne of clemency where Thou art enthroned as Queen, turn Thy merciful gaze toward us, on all of our families, on Italy, on Europe, on the whole Church; and have compassion on the miseries with which we draw near, and of the anguish which embitters life. See, o Mother, how many dangers of soul and body surround us: how many calamities and afflictions compel us! O Mother, restrain the Arm of justice of Thy offended Son and, with clemency, win over the hearts of sinners: they too are our brethren and Thy children, which cost the Blood of the sweet Jesus and wounded with a sword Thy most tender Heart. Show to all today that Thou art the Queen of peace and of pardon.
Salve Regina.
II
It is true, it is true that we in the first place, even though Thy little children, return to crucify Jesus in our hearts with our sins, and transfix anew Thy Heart. Yes, we confess it, we are worthy of the most severe scourges. But remember that on the height of Golgotha, Thou didst gather the last drops of that divine Blood and didst receive the last design of the dying Redeemer. And that Will of a God, sealed with the Blood of a Man-God, declared Thee our Mother, Mother of sinners. Thou, therefore, as our Mother, art our Advocate, our Hope. And we groaning, raise our hands to Thee in supplication, crying: Mercy!
Pity, take pity on us, o good Mother, on our souls, on our families, on our relations, on our friends, on our deceased brethren, and above all on our enemies, and on all who call themselves Christians, but still pierce the loving Heart of Thy Son. Pity, oh pity! today we implore pity on the nations led astray, of all Europe, of the whole world, which penitently returns to Thy Heart. Mercy for all, o Mother of Mercy.
Salve Regina.
III
What does it cost Thee, o Mary, to hear us? What does our salvation cost Thee? Hast not Jesus placed in Thy hands all the treasures of His graces and of His mercies? Thou sittest, the crowned Queen, at the right of Thy Son, surrounded by immortal glory on all the choirs of the Angels. Thou extendest Thy dominion as far as the Heavens are stretched, and to Thee the earth and all creatures which inhabit it are submitted. Thy dominion is extended until hell, and Thou alone dost tear us from the hands of Satan, O Mary.
Thou art the Omnipotent by grace. Thou canst, therefore, save us. If Thou dost say to us that Thou dost not wish to aid us, because we are ungrateful children, undeserving of Thine protection, tell us at least who we could ever approach, to be delivered from so many scourges.
Ah, no! Thy Maternal Heart will not suffer seeing us, Thy Children, lost. The Babe which we see in Thy lap, and the mystical crown which we behold in Thine hand, inspire confidence that we shall be heard. And we trust fully in Thee, we throw ourselves at Thine feet, we abandon ourselves as weak children in the embrace of the most tender of Mothers, and this very day, yes, today, from Thee we await the desired graces.
Salve Regina.
Let us beg Mary's blessing.
One last grace we now beg of Thee, O Queen, which Thou canst not deny us in this most solemn day. Bestow on us all Thy constant love, and in a special way, Thy maternal blessing. No, we shall never quit Thy feet, we shall never separate ourselves from Thy knees, until Thou wilt bless us.
Bless, O Mary, in this moment, the Supreme Pontiff. To the ancient laurels of Thy Crown, to the triumphs of old of Thy Rosary, whence Thou art called Queen of Victory, deign! add also this O Mother, grant triumph to Religion and to human society. Bless our Bishop, the Priests and particularly all those who are zealous for the honour of Thy Shrine.
Bless, finally, all the associates of Thy new Temple of Pompeii, and all those who cultivate and promote the devotion to Thy Holy Rosary.
O blessed Rosary of Mary; sweet Chain which binds us to God, Bond of love which unites us to the Angels, Tower of salvation in the assaults of hell; sure Port in shipwreck, we shall never leave thee again. Thou shalt be comfort in the hour of agony; to thee the last kiss of life which closes. And the last word on pale lips shall be Thy sweet name, Queen of the Rosary of the Valley of Pompeii, our dearest Mother, o singular Refuge of sinners, O Sovereign Consolatrix of the afflicted. Be everywhere blessed, today and always, on earth and in Heaven. Amen.