Cistercian Martyrs of England
March 7, 2007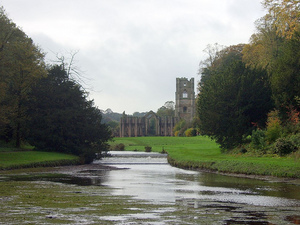 I was deeply moved when the martyrology for today, March 8th, was read in Chapter. Hearing the names of these English Cistercian martyrs read out here in Rome was a truly Catholic Moment.
From the Romano–Cistercian Martyrology:
In England, in the sixteenth century, the passion of a number of Cistercian monks cruelly put to death for different pretexts by order of King Henry VIII.
In the months of March and May 1537, died for the Catholic faith:
— the Lord Abbot of Kirkstead, Dom John Harrison and his brethren Dom Richard Wade, Dom William Small, and Dom Henry Jenkinson;
— the Lord Abbot of Whalley, Dom John Paslew and his brethren, Dom William Haydock and Dom Richard Eastgate.
Also died: the Lord Abbot of Fountains and a monk of Louth Park.
In the following year 1538, were martyred:
— the Lord Abbot of Woburn, Dom Robert Hobbes and the monks Dom Rudolph Barnes and Dom Laurence Blunham.
Recognized as authentic confessors of the faith:
Dom Thomas Mudd, monk of Jervaulx, who died on September 7, 1583;
Dom John Almond, who died on April 18, 1585,
and Dom Gilbert Browne, the last Abbot of Sweet Heart (Dulce Cor), who died on March 14, 1612.