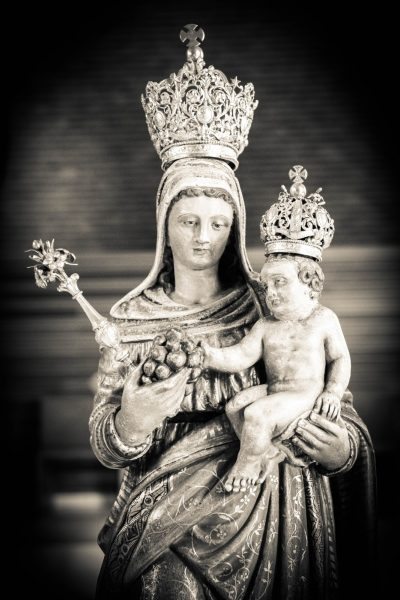 5 Jan. 6 May. 5 Sept.
Hence also the Lord saith in the Gospel: "He that heareth these words of Mine, and doeth them, is like a wise man who built his house upon a rock: the floods came, the winds blew, and beat upon that house, and it fell not, because it was founded upon a rock." And the Lord in fulfilment of these His words is waiting daily for us to respond by our deeds to His holy admonitions. Therefore are the days of our life lengthened for the amendment of our evil ways, as saith the Apostle: "Knowest thou not that the patience of God is leading thee to repentance?" For the merciful Lord saith: "I will not the death of a sinner, but that he should be converted and live."
We have come to the monastery to be converted and live. Saint Benedict puts the words addressed to the prophet Ezechiel in the mouth of Christ — I will not the death of a sinner, but that he should be converted and live (Ezechiel 18:23) — and in so doing, he calls him the pius Dominus, the tender, or kind–hearted, or merciful Lord. The man is deluded who thinks that, in coming to the monastery, he will be spared conversion. This being said, take comfort in knowing that conversion is Our Lord's work in us more than our own work on ourselves. Monastic life is not a kind of self–improvement program; it is, rather, an opening to the work of God, a holding of oneself in readiness for the divine visitation, and an abiding submission to all that it pleases God to do, or not to do; to give, or to take away. Saint Bernard expresses, I think, better than anyone else, what happens when a soul lies open to the Word and suffers His action:
You ask then how I knew he was present, when his ways can in no way be traced? He is life and power, and as soon as he enters in, he awakens my slumbering soul; he stirs and soothes and pierces my heart, for before it was hard as stone, and diseased. So he has begun to pluck out and destroy, to build up and to plant, to water dry places and illuminate dark ones; to open what was closed and to warm what was cold; to make the crooked straight and the rough places smooth, so that my soul may bless the Lord, and all that is within me may praise his holy name. (Sermon LXXIV on the Song of Songs)
Conversion means suffering the action of Christ in the soul; it also means an active and often costly obedience to His word. The soul who holds herself in readiness for the action of Christ will also hold herself in readiness to do whatsoever He shall say. This is Our Lady's way:
And the third day, there was a marriage in Cana of Galilee: and the mother of Jesus was there. And Jesus also was invited, and his disciples, to the marriage. And the wine failing, the mother of Jesus saith to him: They have no wine. And Jesus saith to her: Woman, what is that to me and to thee? my hour is not yet come. His mother saith to the waiters: Whatsoever he shall say to you, do ye. (John 2:1–5)
Concretely, Christ speaks to a monk through the sacred liturgy, through the Holy Rule, through the Declarations and Statutes, and through the teaching of the abbot in the daily Chapter. When one is uncertain of how to respond to what Christ asks, one should, first of all, ask the abbot for guidance and counsel. Having received the abbot's direction, one must bring it, in some way, to Our Lady. If one is beset with uncertainties and hesitations, the best thing one can do is to leave all at Our Lady's feet. There is no need to fret, wringing one's hands and falling into a state of turmoil. Sometimes it is enough to put one's torturous thoughts aside and simply tell the beads. Many an uncertainty has been resolved, and many a torment quieted at the end of five decades of the rosary. The Blessed Virgin Mary teaches us to hear the word of God and to store it up in our hearts, just as she received every word of that Jesus uttered, stored it up in her Immaculate Heart, and lived on it.
And it came to pass, as he spoke these things, a certain woman from the crowd, lifting up her voice, said to him: Blessed is the womb that bore thee, and the paps that gave thee suck. But he said: Yea rather, blessed are they who hear the word of God, and keep it. (Luke 11:27–28)
A monk who goes to choir seven or eight times a day, spends time each day poring over the Sacred Scriptures in lectio divina, and also listens to his abbot's teachings in Chapter, will find himself well supplied with the Word of God. A man cannot receive the Word of God and remain unconverted by it. Certainly there are sudden and powerful inbreakings of grace, such as happened to Alphonse Ratisbonne, and Hermann Cohen, and André Frossard; for a monk, however, conversion is a life–long, quotidian, and barely perceptible transformation into Christ.
In this life–long conversion, the Blessed Virgin Mary will act upon us and in us as much as we allow her to act. She is wonderfully courteous and self–effacing. She will never force us to do anything, nor will she impose herself. Like her divine Son, she stands at the door and knocks. If a man opens the door to her and invite her make her home with him as she did with Saint John, she will accept the invitation. This is what is meant by total consecration to the Blessed Virgin. The man who lives with Mary will begin to perceive her influence over him. Her own virtues will quietly, and over time, become his: humility, obedience, silence, and charity. I cannot conceive of conversion of life except as a Marian grace and, as such, it is something within the reach of the littlest and poorest among us. For many, the secret of perseverance in conversion is as simple as reaching for the beads again and again, especially when one is incapable of doing anything else, and of repeating the Aves of the rosary until Our Lady sets the wrong thing right and, by her simple silent presence, repeats what the angel said to her: "No word shall be impossible with God" (Luke 1:37).