The difficulty made about his coming in (LVIII:4)
April 14, 2019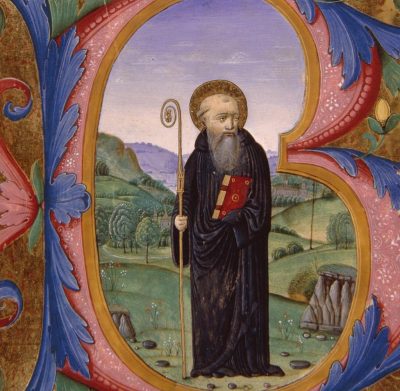 CHAPTER LVIII. Of the Discipline of receiving Brethren into Religion

11 Apr. 11 Aug. 11 Dec.
To him that newly cometh to change his life, let not an easy entrance be granted, but, as the Apostle saith, "Try the spirits if they be of God." If, therefore, he that cometh persevere in knocking, and after four or five days seem patiently to endure the wrongs done to him and the difficulty made about his coming in, and to persist in his petition, let entrance be granted him, and let him be in the guest-house for a few days.
The man who comes to the monastery to change his life must be kept waiting on the doorstep. When he prescribes the manner of receiving guests, Saint Benedict says:
Let all guests that come be received like Christ Himself, for He will say: "I was a stranger and ye took Me in." And let fitting honour be shewn to all, especially to such as are of the household of the faith, and to strangers. When, therefore, a guest is announced, let him be met by the Superior or the brethren, with all due charity. Let them first pray together, and thus associate with one another in peace; but the kiss of peace must not be offered until after prayer, on account of the delusions of the devil. In this salutation let all humility be shewn. At the arrival or departure of all guests, let Christ – who indeed is received in their persons – be adored in them, by bowing the head or even prostrating on the ground.
Note well that when it comes to the reception of a prospective novice, Saint Benedict orders things quite differently. The prospective novice is not to be given too warm a welcome, nor is he to be taken inside — even into the guesthouse — too quickly. This is critical: the monastic journey must begin in humility, and without humiliations, there can be no humility. Saint Benedict wisely prescribes an initial humiliation. This is not a want of charity, nor is it cruel. It is necessary that a man, in knocking at the door of the cloister, understand that life in the monastery was there before him and that, should he not be accepted or be sent away, the same life will go on without him.
There is a great danger to a man's soul when he begins to think that he has been sent to the monastery to save it from extinction, or to reform the observance, or to lend his melodious voice to the choir, or to improve the community's diet, or to start a remunerative work, or to dazzle everyone with his intelligence. All of these things are dangerous sink holes through which a man falls into an abyss of pride. It is a great injustice to a man to welcome him too eagerly, to make him feel, in some way, that the monastery needs him, or that the future of the monastery depends on him. It is tempting for the abbot of a monastery that is poor and in need of new blood to think he is doing the right thing by imitating the father of the prodigal son.
But, while he was still a long way off, his father saw him, and took pity on him; running up, he threw his arms round his neck and kissed him. And when the son said, Father, I have sinned against heaven and before thee; I am not worthy, now, to be called thy son, the father gave orders to his servants, Bring out the best robe, and clothe him in it; put a ring on his hand, and shoes on his feet. Then bring out the calf that has been fattened, and kill it; let us eat, and make merry; for my son here was dead, and has come to life again, was lost, and is found. (Luke 15: 20–24)
There will be, God knows, many opportunities in a man's monastic life for living out the parable of the prodigal son. When a man knocks at the door of the cloister, however, another kind of mercy is required. Saint Benedict speaks approvingly of "the wrongs done to him and the difficulty made about his coming in." Nowhere in the Holy Rule is Saint Benedict closer to the Fathers of the Desert than here. What is called for is an extreme sobriety. An exuberant enthusiasm is not in order. The Father charged with the care of enquirers must, in effect, show a certain indifference. Should the same Father, after some days of waiting, open the door of the guesthouse to an enquirer, he must say to him what Abba Poemen said to Abba Joseph, when the latter asked,"Tell me how to become a monk." Abba Poemen replied to Abba Joseph: "If you want to find rest here below in all circumstances say, 'Who am I? and do not judge anyone."