Nuestra Señora del Pilar
October 12, 2018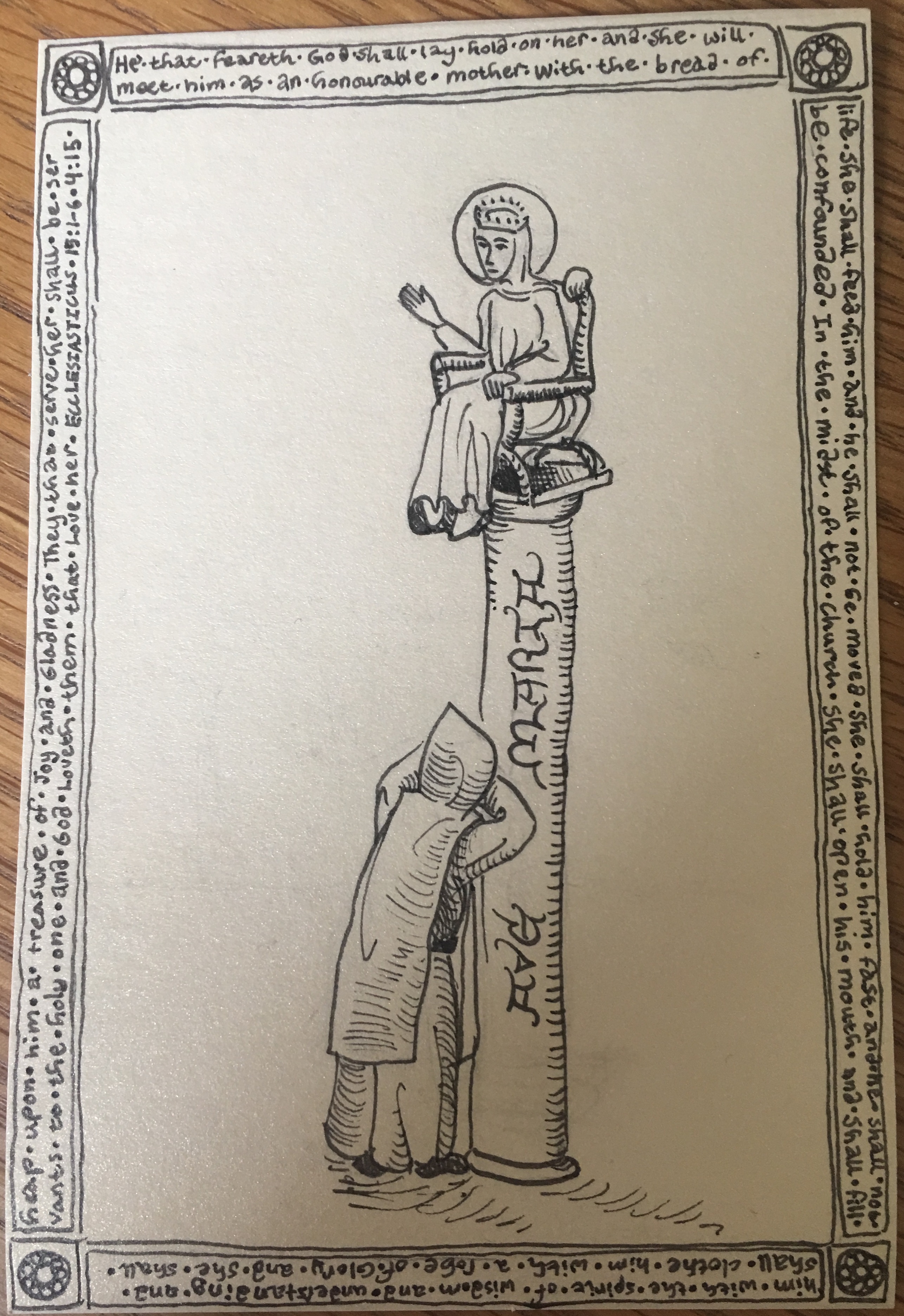 Brother Julian drew this lovely image of Our Lady of the Pillar for today's feast: a novice leaning against the pillar of the Mother of God in his hour of tempation. The Blessed Virgin Mary, Pillar of Faith, is celebrated in Spain and in other places on October 12th. Tradition recounts that after Pentecost Saint James went to preach the Gospel in far off Spain. There his work met with little response. In fact, the Apostle found hostility and active resistance to his preaching. James grew discouraged and, in his weariness, began to question his mission. In this, there is not a priest alive who, at certain moments, cannot identify with Saint James.
The Apostle was painfully aware of his own weakness; he knew himself to be an earthen vessel and, for a time, the bright memory of the Transfiguration seemed to have been eclipsed in his heart. It was at that moment that the Mother of Jesus — still alive at the time and living with his brother, Saint John — appeared to Saint James to comfort him in his mission. He saw the Blessed Virgin Mary atop a pillar. Our Lady, Queen of Stylites!
Today's feast invites us to pray for all priests who, in their mission, encounter indifference, resistance, criticism, hostility, and even persecution. So many priests suffer dejection. Some are called to share in the loneliness of Jesus in Gethsemani; their particular vocation is to repeat the words of their Master, brokenhearted in His solitude: "Insults have broken my heart so that I am in despair. I looked for pity but there was none; and for comforters but I found none" (Ps 68:20).
All are in need of the encouraging presence of the Mother of God. She appeared to Saint James on a pillar of stone to give him something to lean on in his weakness and dejection. Strengthened by the Blessed Virgin, Saint James pursued his preaching in Spain, and then returned to Jerusalem to face his final sufferings.