Ergo aequalis sit ab eo omnibus caritas (II:4)
May 13, 2018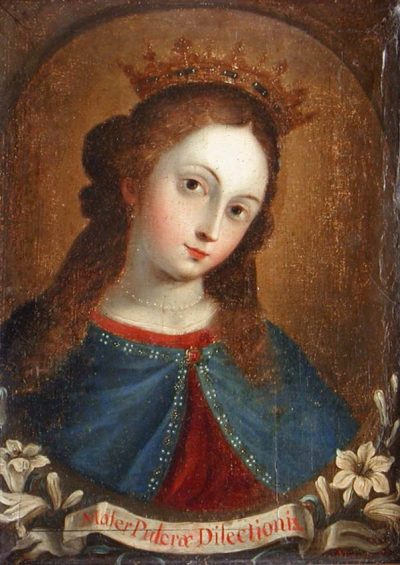 12 Jan. 13 May. 12 Sept.
Let him make no distinction of persons in the monastery. Let not one be loved more than another, unless he be found to excel in good works or in obedience. Let not one of noble birth be put before him that was formerly a slave, unless some other reasonable cause exist for it. But if upon just consideration it should so seem good to the Abbot, let him arrange as he please concerning the place of any one whomsoever; but, otherwise, let them keep their own places; because, whether bond or free, we are all one in Christ, and bear an equal rank in the service of one Lord, "For with God there is no respecting of persons." Only for one reason are we preferred in His sight, if we be found to surpass others in good works and in humility. Let the Abbot, then, shew equal love to all, and let the same discipline be imposed upon all according to their deserts.
We find in today's portion of Chapter II both the word amare  and the word caritas. Saint Benedict begins by enjoining the abbot to make no distinction of persons in the monastery by following the penchants of his heart. The word amare refers to having instinctual feelings of fondness, affection, kindness, and benevolence towards another. It also refers to the ready approval one gives to the man who knows how to be winsome.
There will be in every monastery some brothers who have the misfortune of being social porcupines. Such men bristle their needles whenever another approaches them. They are wary, suspicious, and defensive. They seem always to be bracing themselves against some kind of attack. The abbot must not discount the social porcupines of the monastery, just because they are less approachable than others. When such men enter sincerely into a life of zeal for the Divine Office, eagerness for obedience, and the ready acceptance of humiliations, they can become excellent monks, and even saints. All of this without being attractive, or winning, or in any way charming. Saint Benedict will say in Chapter LXXII: "Let them most patiently endure one another's infirmities, whether of body or of mind". I have, for the past thirty–five years, often returned to an essay written in 1950 by Père Louis Beirnaert on the holiness of those marked by illness, infirmities, and even psychological anomalies:
There are saints with unattractive and difficult psychological profiles: the troop of the anguished, aggressive, and flesh–bound, driven by the unbearable weight of their compulsions. There are "born failures" whose heart will never be anything but a nest of vipers, unfortunate persons with an unattractive face, boys who could never identify with their father. There are saints who will never charm the birds or caress the wolf of Gubbio. There are those who fall and who will fall again and again. There are those who will shed tears right up to the end, not because they slammed a door a little too energetically, but because they are still committing a sordid unavowable fault. There is the immense crowd of those whose sanctity here below will never glow with mental health, and who will have to wait for the last day to shine in perpetuas aeternitates. These are saints without having the name.
The abbot will reserve a special solicitude for any brother who, for natural reasons, might find himself excluded from the easy companionship of others. The social porcupine, the brother with an unpleasant approach, the man who manages always to say or do the wrong thing, or not quite the right thing, may, in fact, be very close to God and, in the humiliations of what appear to be flaws of character, may be drawing down showers of graces for the whole community. The abbot will entrust such a brother to the maternal Heart of the Blessed Virgin Mary, begging her to work in his mind, his heart, and all his life.
Saint Benedict warns the abbot against being emotionally manipulated. He admits that the abbot may find himself more inclined to show sentiments of approval and affection to one more than to another. There is a certain manly austerity in Saint Benedict's prohibition of such displays of fondness, readily given to some and withheld from others. Nothing so troubles a monastery as the abbot having first this favourite son and then another. Such favouritism foments division, jealousy, rancour, and enmity. If the abbot shows a special fondness to some above others, let it not be to the brother who happens to share the abbot's interests, or his ethnic or social background, or who, for one reason or another, seems to make himself more lovable; let the abbot rather keep any special fondness for the brother found to excel in good works or in obedience.
What are the good works by which a brother is deserving of the abbot's attention? Saint Benedict names them the "tools of the spiritual craft" and, in Chapter IV, identifies seventy–two of them. He concludes:
Behold, these are the tools of the spiritual craft, which, if they be constantly employed day and night, and duly given back on the day of judgment, will gain for us from the Lord that reward which He Himself hath promised – "which eye hath not seen, nor ear heard; nor hath it entered into the heart of man to conceive what God hath prepared for them that love Him." And the workshop where we are to labour at all these things is the cloister of the monastery, and stability in the community.
The brother who is plying the tools of the spiritual craft benefits the whole community. He is a blessing to the abbot and to all his brethren, and so deserves to be encouraged, and supported with words and signs of approval. The benevolence shown to such a brother redounds in blessings for everyone. Saint Gregory shows us that Saint Benedict himself had a kind of predilection for his young disciple, Saint Maurus. He also makes of point of saying that Saint Maurus was outstanding for one thing in particular: his obedience. Such was the obedience of Saint Maurus that he ran over the waters to rescue little Saint Placid who risked drowning. The obedient brother makes life good and pleasant for everyone.
At the end of this section of Chapter II, Saint Benedict moves from speaks not of loving in the sense of amare, but rather of caritas.
Ergo aequalis sit ab eo omnibus caritas, una praebeatur in omnibus secundum merita disciplina.
Let the Abbot, then, shew equal charity to all, and let the same discipline be imposed upon all according to their merits.
Caritas is the love that flows out from God, that is, the charity of which Saint John is the herald and doctor:
Dearly beloved, let us love one another, for charity is of God. And every one that loveth, is born of God, and knoweth God. He that loveth not, knoweth not God: for God is charity. By this hath the charity of God appeared towards us, because God hath sent his only begotten Son into the world, that we may live by him. In this is charity: not as though we had loved God, but because he hath first loved us, and sent his Son to be a propitiation for our sins. My dearest, if God hath so loved us; we also ought to love one another. No man hath seen God at any time. If we love one another, God abideth in us, and his charity is perfected in us. (1 John 4:7–12)
The abbot cannot produce charity in himself. He can only beg for it in persevering, humble prayer. He can approach the Heart of Jesus, the fornax ardens caritatis, the blazing furnace of charity, and expose himself to its divine sparks. And always, the abbot can go with filial confidence to the Blessed Virgin Mary, mater pulchræ dilectionis, the mother of fair love, trusting her to supply his sons with whatever may be deficient or inadequate in his own charity towards them.