St Francis de Sales & the Rule of St Benedict
January 29, 2016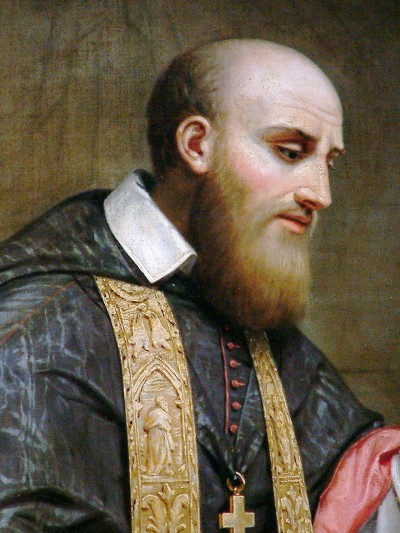 Holiness Is Symphonic
The symphonic quality of holiness is a glorious thing orchestrated in Christ, by the Holy Ghost, to the praise of the Father. The teaching of certain saints wonderfully complement and elucidate the teachings of others. In this way, from one saint to the next, the ascetical and mystical theology of the Church develops organically through the ages.
Being Catholic
I have never been comfortable with narrow and confining attachments to particular schools or spiritualities. Benedictines are catholic: open to all that is true and good and beautiful in the Church of Christ. Benedictines in every age have known how to appropriate and integrate into life according to the Holy Rule, a diversity of spiritual sensibilities and attractions. Père Jean Baptiste Muard, O.S.B. (1809-1854), the founder of the Abbey of La-Pierre-Qui-Vire, placed his monastery under the protection of the Sacred Heart of Jesus and Saint Margaret Mary Alacoque!
Saint Francis de Sales and Saint Benedict
One might want to consider the very "Benedictine" qualities of Saint Francis de Sales. There is a striking correspondence between the Patriarch of Monastic Life in the West and the Doctor of Divine Love. Dom Romain Banquet (1840-1929), a Benedictine abbot of the last century and the saintly founder of the Abbey of En-Calcat, maintains that Benedictines are bound to love Saint Francis de Sales! Why? Because the spirit Saint Francis de Sales gave to the Order of the Visitation is, in essence, that of the Rule of Saint Benedict: gentleness and moderation; a gracious accommodation to weakness; meekness and humility and, above all, charity. Dom Romain Banquet wrote:
At the present time, it is necessary, I think, to resign oneself to establish [monastic] observances with regard to the weakness of temperaments and, by way of compensation, to do what the Beloved asks with such lively insistence: to turn souls entirely to the interior life, to union with Jesus, and to the little virtues of daily life.
We must love Saint Francis de Sales, because the spirit that animated him and that he gave so well to the Visitation is precisely the spirit of our Order [of Saint Benedict]. It would be easy to prove this by the study of the Rule and by the history of our first saints. One pays too much attention to their austerities, necessary in their time in order to master the bodies that nature had given them, exuberant with vigour. One does not pay enough attention to the spirit of interiority and of prayer with which they were filled.