One heavy devil
November 13, 2015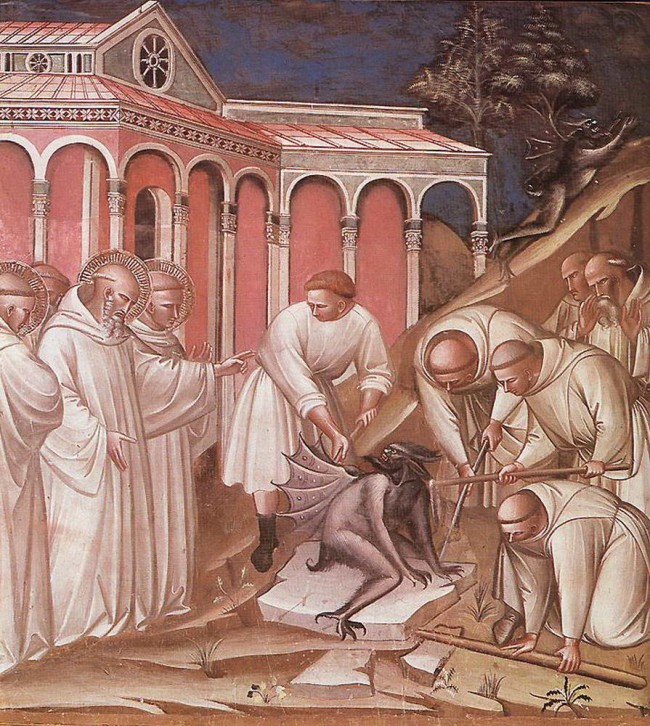 Today we celebrate the feast of All Saints Who Militated Under the Rule of Saint Benedict. One might also translate the name of the feast as All Saints Who Soldiered Under the Rule of Saint Benedict. It's enough to make a Jesuit envious!
Spinello Aretino's depiction of Saint Benedict exorcising a demon is perhaps appropriate for today's feast. Saint Gregory the Great recounts the whole story in his Life of Saint Benedict. The painting, however, tells more than the story. The monks are engaged in a building project. The undertaking comes to a halt when a "heavy devil" decides to sit on a stone. No one can lift the stone. This happens not infrequently in community life.
Saint Peter reminds us that we are all "living stones" destined by God to be "built into a spiritual house" (1 Peter 2:5). Sometimes one "living stone" becomes heavy to the point of being immovable. Then the upbuilding of the community stops and the "immovable stone" becomes the focus of much frustration and unhappiness.
What can be done when a "heavy devil" fastens itself to a brother or sister in order to impede the building of the community? Prayer and fasting, and recourse to the power of the Cross and the intercession of Saint Benedict are efficacious means by which the devil can be detached from the poor soul on whom he crouches. Once rid of the "heavy devil," the edification of the community can resume.