Saturday in the IX Week after Pentecost,
August 2, 2015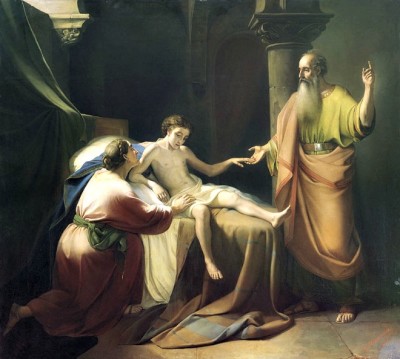 From the Constitutions of the Holy Apostles
Do not, O bishops, keep any such observances about legal and natural purgations, as thinking you are defiled by them.  Neither do you seek after Jewish separations, or perpetual washings, or purifications upon the touch of a dead body.  But without such observations assemble in the dormitories, reading the holy books, and singing for the Martyrs which are fallen asleep, and for all the Saints from the beginning of the world, and for your brethren that are asleep in the Lord, and offer the acceptable Eucharist, the representation of the royal body of Christ, both in your churches and in the dormitories; and in the funerals of the departed, accompany them with singing, if they were faithful in Christ. For "precious in the sight of the Lord is the death of his Saints."
For those that have believed in God, although they are asleep, are not dead. For our Saviour says to the Sadducees: "But concerning the resurrection of the dead, have you not read that which is written, I am the God of Abraham, and the God of Isaac, and the God of Jacob?  God, therefore, is not the God of the dead, but of the living; for all live to him."  Wherefore, of those that live with God, even their very relics are not without honour. For even Elisha the Prophet, after he was fallen asleep, raised up a dead man who was slain by the pirates of Syria.  For his body touched the bones of Elisha, and he arose and revived. Now this would not have happened unless the body of Elisha were holy.
And chaste Joseph embraced Jacob after he was dead upon his bed; and Moses and Joshua the son of Nun carried away the relics of Joseph, and did not esteem it a defilement.  Whence you also, O bishops, and the rest, who without such observances touch the departed, ought not to think yourselves defiled.  Nor abhor the relics of such persons, but avoid such observances, for they are foolish.  And adorn yourselves with holiness and chastity, that you may become partakers of immortality, and partners of the kingdom of God, and may receive the promise of God, and may rest for ever, through Jesus Christ our Saviour.
Responsory.  Have you not read || that which was spoken by God, saying to you: I am the God of Abraham, and the God of Isaac, and the God of Jacob? * He is not the God of the dead, but of the living.  V. Precious in the sight of the Lord is the death of his Saints. * He is not … Glory be … He is not …