I lost myself in Him
January 30, 2014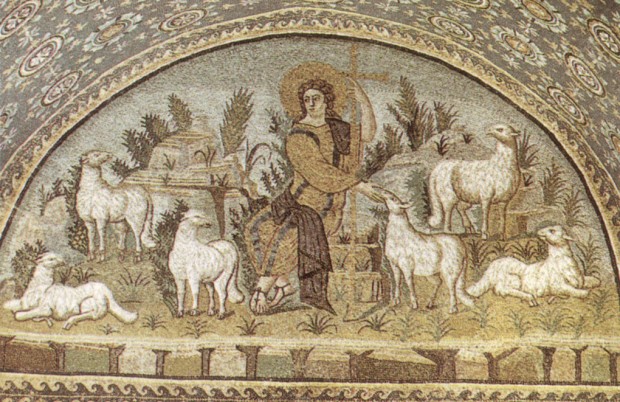 Catherine de Bar's Mysterious Prophetic Dream
Some time after her religious profession in 1633, and before the destruction of the monastery of Bruyères in 1635, Catherine de Bar (Mother Saint John the Evangelist) had a mysterious dream. She wrote an account of this dream for her spiritual director. The text of this account, given by Mère Marie–Véronique Andral in Catherine de Bar: Itinéraire spirituel, is an extraordinary revelation of all that will come to characterize the spiritual experience of the future Benedictine. Mother Saint John writes:
It seemed to me that I was in a fairground in which there were a great number of boutiques enriched with the most beautiful and precious things imaginable. I was a merchant, and I had a boutique that appeared even more magnificent than the others.
As I was occupied with looking at all these riches, I heard a great noise and each one began to run, saying, "Behold, the Lord!" At once I felt that I had so burning a desire to see Him that I did everything possible to discover where He was. Having seen Him stopping in all the boutiques, I thought in myself that He would also stop in mine, which obliged me to wait in the entry to welcome Him.
At length, my Lord arrived in the midst of a great crowd of people. He was clothed in a long white robe with a cincture of gold; His hair, almost blonde, hung to His shoulders; His face was somewhat long, and His eyes so charming that they stole away every heart. In truth, He barely passed in front of me but, in passing, He cast upon me such a glance that I remained altogether transported by it and heartily compelled to leave my boutique in order to follow Him. I took with me in my robe, nonetheless, the most beautiful things and the easiest to carry, and so I followed Him in the crowd.
I felt within myself that I was not only to follow Him, but also to walk in His footsteps. It required great attention to recognize His footprints among those of the people. This caused me to neglect all the rest and so, almost imperceptibly, I lost all that I was carrying with me.
The multitude being, little by little, dispersed, I found myself outside the city, alone with Our Lord, whom I tried to follow as closely as possible. Then, I fell. All my attention was to put myself again in His footsteps, and as quickly as possible. He led me by very difficult paths, extremely narrow, all rocky, and full of thorns, which tore away my shoes, my headdress, and my clothes. My arms, my hands, my feet, and my whole body were bloodied.
Finally, after these inconceivable sufferings, being stripped of my garments by the briars and thorns, I found myself clothed now in a white robe, with a cincture of gold like that of Our Lord, in a lovely path where still I was following Him closely. For all of this, He did not look at me. I thought within myself, "If only He would look at me, I should be content!" And then, to console myself, I said, "He knows well that I love him!" I felt a kind of channel between His Heart and mine, something like a tube or conduit, which went from one to the other, and which united them in such a way that the two [hearts] were but one.
After having walked a long time following Our Lord, I found myself in a great prairie where the grass appeared to be of gold — which signifies charity — all adorned with flowers. In it were big sheep with raised heads, feeding only on the dew from heaven; although they were up to their necks in the pasture, they ate nothing of it. I was shown that these sheep represent  the contemplative souls who feed on God alone, and who fill themselves on nothing apart from His divine plenitude. Among these sheep, I saw one who was very thin and who was going away from the flock. The sheep did this so much that, at the end, he left the flock altogether.
I so wanted to enjoy the happiness of the souls whom these sheep represented, but I was allowed only to look at them and, so doing, I went beyond them, always following my divine guide. He led me then into a great plain, at the end of which there was a magnificent palace, but its door was so low and so narrow that one could hardly see it. This made me think that I should never be able to pass through it. I was extremely saddened by this. Then, Our Lord, who had been pretending not to see me, ever since that first glance when He passed in front of my boutique, turned around and looked at me. I understood, at the same time that, in order to enter into the palace, I would have to be brought to nothing utterly. In that moment, Our Lord entered in, and I with Him. But I made such efforts to go in after Him that, not only was my tunic stripped away, but I left there even my skin all in shreds. I lost myself in Him, and so lost was I that I no longer found myself.
The future foundress of the Benedictine of Perpetual Adoration of the Most Holy Sacrament gives no explanation of her mysterious dream. For Mother Saint John, it is transparent enough by itself.  Are the various boutiques of the fair the many religious orders of the Church, each one displaying its wares? Why, after a single personal glance of Jesus, must she leave her own boutique behind to follow Him, losing everything she has along the way? Mother Saint John was not permitted even to linger among those perfect contemplative souls whom she saw represented as sheep in the meadow, feeding only on dew from heaven. Why does she find herself, in the end, completely alone? She was called to make her way past them all into a vast solitary plain. The little door she sees in the distance resembles the famous low door of the Church of the Holy Nativity in Bethlehem. Going through that door is like passing through a birth channel; it is in fact a new birth. On the other side of that door she will be established by grace in a humility so profound that, through her life and in all her writings, she will describe it as an anéantissement, a being brought to nothing.