Vita vestra est abscondita cum Christo in Deo
December 16, 2013
Your life is hidden away now with Christ in God.  Colossians 3:3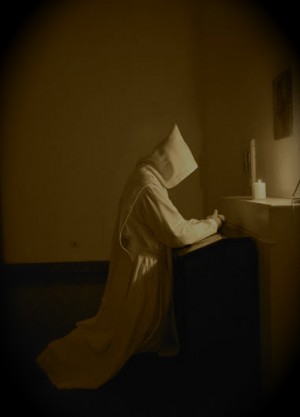 Some are called not to much speaking, nor to conversations about the Church, but, rather, to a deep silence and to a life hidden in the heart of the Church, far from wrangling tongues, from speculations, and discord.
These souls Our Lord calls to be silent so as to be like Him in the Sacrament of His Love. These He calls to hide themselves even as He is hidden in His tabernacles.
This is the essence of a Eucharistic monastic life: not to be seen, but to remain hidden; not to speak much, but to enter into the silence of the Host.
It is enough that He sees such souls. It is enough that they can converse with Him at any time, freely and spontaneously pouring their hearts into His Heart.
Seeking silence, such souls will find the Word. Seeking hiddenness, they will shine with the splendour of His Face.