Into the Water with Naaman
March 4, 2013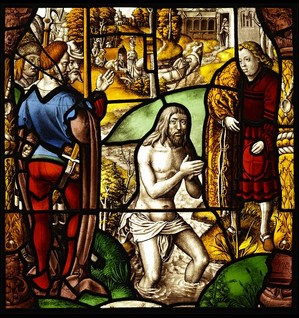 Water
We hear in today's Lesson how Naaman the Syrian was cleansed of leprosy in the River Jordan. Naaman descended into the very water that Our Lord Jesus Christ would sanctify in the mystery of His Holy Baptism so that we too might be cleansed of the leprosy of sin and recover the innocence of new-born lambs.
Psalm 50
Saint Benedict, in his disposition of the Divine Office, places Psalm 50 at the beginning of Lauds seven days a week. Why does the Holy Patriarch have his monks begin the day with the Miserere, David's poignant psalm of contrition?
Saint Benedict understood Psalm 50 as a daily renewal of Baptism; he prayed it as the psalm of spiritual resurrection in the joy of a heart made clean. The daily repetition of the Miserere at Lauds brightens every morning with a holy exhilaration, precisely because it declares the possibility of a fresh start, of a clean slate, of a new beginning. There is not a single day on which one cannot say, "Today, I begin" (Ps 77:11). Say this, then, as you take Holy Water in the morning: "Today, I begin, in the Name of the Father, and of the Son, and of the Holy Spirit. Amen."
Wash Me Clean
In Psalm 50 we ask God, repeatedly and persistently, to cleanse us. "Blot out my iniquity" (Ps 50:3). "Wash me clean from my guilt" (Ps 50:4). "Purge me of my sin" (Ps 50:4). "Sprinkle me with a branch of hyssop, and I shall be clean" (Ps 50:9). "Wash me and I shall be whiter than snow" (Ps 50:9). We cannot cleanse ourselves thoroughly because we do not see where we are soiled. We are as blind to our own sins as we are quick to notice the sins of others. The stain of sin has seeped deep into the very crevices of our souls. God alone can reach into those hidden places and make them clean.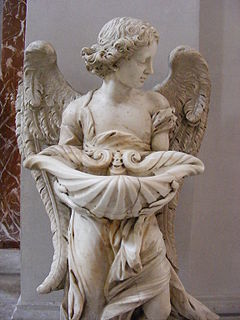 Holy Water
A lot of folks, even among practicing Catholics, seem to pooh-pooh the use of Holy Water just the way Naaman, in his pride, pooh-poohed the water of the Jordan River. They find it hard to believe that God would make use of something so simple. One does well to recall what Saint Teresa of Avila, Doctor of the Church, wrote about Holy Water?
From long experience I have learned that there is nothing like Holy Water to put devils to flight and prevent them from coming back again. They also flee from the Cross, but return; so Holy Water must have great value. For my own part, whenever I take it, my soul feels a particular and most notable consolation. In fact, it is quite usual for me to be conscious of a refreshment which I cannot possibly describe, resembling an inward joy which comforts my whole soul. This is not fancy, or something which has happened to me only once. It has happened again and again, and I have observed it most attentively. It is, let us say, as if someone very hot and thirsty were to drink from a jug of cold water: he would feel the refreshment throughout his body. I often reflect on the great importance of everything ordained by the Church and it makes me very happy to find that those words of the Church are so powerful that they impart their power to the water and make it so very different from water which has not been blessed.
Put the Devil to Flight
When first I visited the Franciscan Convent of Perpetual Adoration at Drumshambo in County Leitrim, many years ago, among the things that impressed me were the Holy Water fonts in alls the rooms: at the entrance to the choir, in the chapter room, in the workrooms, and in the cells. Everywhere. I saw the nuns take Holy Water and make a reverent sign of the Cross every time they passed a little font. A little splash of Holy Water puts the devil to flight, recalls the grace of Baptism, and remits venial sin.
Holy Water at Church and at Home
There is Holy Water at the entrance to our churches, so that we can enter the presence of God cleansed of the accumulated dirt of venial sins. Holy Water is necessary in our homes as well; it is an essential element in every Catholic household. Take Holy Water before going to bed, you will get a better night's sleep. Take Holy Water upon rising in the morning; you will have a better day.
Into the Jordan
Naaman, encouraged by his servants, the "little people" who surrounded him, swallowed his pride and "plunged into the Jordan seven times at the word of the man of God" (2 K 5:14). "His flesh became again like the flesh of a little child, and he was clean" (2 K 5:14). The God who did this for Naaman is "the restorer and lover of innocence." "Unless you turn," says the Lord, "and become like children, you will never enter the kingdom of heaven" (Mt 17:3). Had Naaman not humbled himself by descending into the Jordan, he would have remained unclean and isolated.
In providing His Church with sacraments and sacramentals, Our Lord has equipped us with everything we need to recover and preserve our baptismal innocence, beginning with frequent Confession and the devout use of Holy Water. It is not burdensome to make use of the sacramental means given us by Christ through His Church; and there is comfort in trusting the Holy Ghost to do all that we, of ourselves and by ourselves, cannot do. A verse in the hymn at Lauds during Lent sums it all up:
The hidden wound whence flow our sins,
Wash clean by bathing in the tide;
Remove the things that, of ourselves,
We cannot reach, or put aside.