Archbishop Paul S. Coakley
December 16, 2010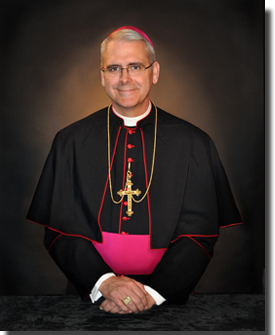 Today the Holy See announced the appointment of The Most Reverend Paul S. Coakley, the present Bishop of Salina, Kansas to the Metropolitan See of Oklahoma City, Oklahoma.
Archbishop Paul S. Coakley was born to John and Mary Coakley in Norfolk, VA in 1955 and lived there with his father, mother and older brother, John, until he was two years old. The family relocated to Metairie, LA where his sister, Mary Christina was born. After beginning his elementary education at St. Mary Magdalen Catholic School the family moved in 1965 to Overland Park, KS. Bishop Coakley's secondary education was completed in public schools in Overland Park.
After graduation from high school he attended the University of Kansas where he completed his undergraduate studies in English and Classical Antiquities in 1977. During this period he was a student in KU's Integrated Humanities Program, where he studied under John Senior, Dennis Quinn and Frank Nelick.
Upon completing university studies Bishop Coakley traveled in Europe and briefly considered a monastic vocation at the Abbey of Notre Dame de Fontgombault in France, before he returned to begin seminary studies for Diocese of Wichita in 1978.
He was ordained a priest in May 21, 1983. After serving as a priest of the Diocese of Wichita for twenty-one years, he was appointed Bishop of Salina on October 21, 2004. Archbishop Coakley was ordained and installed as Bishop of Salina on December 28, 2004.