Soon-to-be-Saint Jeanne Jugan
August 30, 2009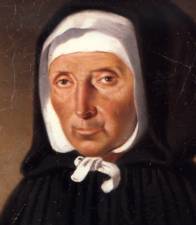 Today is the feast of Blessed (and soon to be Saint) Jeanne Jugan (1792-1879), foundress of the Little Sisters of the Poor. Blessed Jeanne Jugan, in religion Soeur Marie de la Croix, will be canonized in Rome on October 11th together with Blessed Damien of Molokai, Blessed Zygmunt Felinski, Blessed Francisco Coll Guitart, and Blessed Rafael Arnaiz Baron. I take this opportunity to thank her daughters for their faithful loving service of the elderly without resources. The Little Sisters of the Poor are especially attentive to the needs of the aged parents of priests. Un tres grand merci, mes chères petite soeurs!
Blessed Jeanne Jugan's Advice for Moments of Crisis
Go and find Him when your patience and strength give out and you feel alone and helpless. Jesus is waiting for you in the chapel. Say to Him, "Jesus, you know exactly what is going on. You are all I have, and you know all. Come to my help.' And then go, and don't worry about how you are going to manage. That you have told God about it is enough. He has a good memory.