Ave, liber incomprehensus
December 8, 2008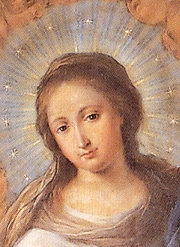 At Matins this morning I listened, enchanted, to Saint Epiphanius' rapturous praises of the All-Holy Mother of God. The witness of Saint Epiphanius is precious: born in Palestine of Jewish parentage in about the year 310, he went to Egypt as a youth to pursue there his monastic vocation. In 367 he was called out of the desert to serve the Church as bishop of Constantia (Salamis) in Cyprus. Sensitive to the least whiff of heresy, he was ever ready to defend the Catholic Orthodox faith. He died whilst returning from Constantinople to Cyprus in 402. Listen to him praise Our Lady. What would happen, I wonder, if a priest were to preach today with such lyricism and holy passion?
More Beautiful than the Cherubim
What shall I say,
what praise shall I make of the glorious and holy Virgin?
She surpasses all beings, God alone excepted;
she is by nature more beautiful than the cherubim, the seraphim,
and the whole army of heaven;
neither heavenly nor earthly tongue are sufficient to praise her,
not even that of the angels.
Immaculate Lily, Unfading Rose
Rejoice! Thou full of grace, gate of the heavens;
carried upward in his discourse,
the author of the Canticle wrote of thee
when he exclaimed:
Thou art a garden enclosed, my sister, my bride,
a garden enclosed, a sealed fountain.
The Virgin is this immaculate lily,
the unfading rose who engendered Christ.
O Holy Godbearer, immaculate ewe,
thou hast brought forth Christ the Lamb, the Word of thee incarnate!
Ever-flowing Wellspring of Sweetness
Immense is the grace of this holy Virgin.
Wherefore does Gabriel address her first with this greeting:
Hail, full of grace, shining heaven!
Hail, full of grace, adorned with numberless virtues!
Hail, full of grace, thou golden urn containing the heavenly manna!
Hail, full of grace, thou who quenchest those who thirst
from the ever-flowing wellspring of sweetness!
Purple Fit for Kings
Hail, O most holy and immaculate Mother,
who didst bring forth Christ, He who before thee is.
Hail, O purple fit for kings, thou has clothed the King of heaven and earth!
Hail, O book incomprehensible: thou hast displayed the Word, the Son of the Father,
for all the world to read!