Saint Marcella of Rome
January 31, 2008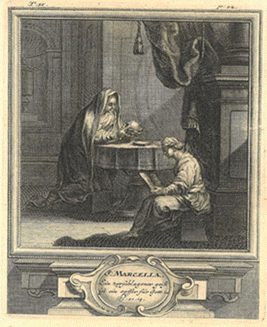 The Glory of the Ladies of Rome
January 31st is not only the feast of Saint John Bosco, the gentle spiritual father of countless children and young people, it is also the feast of Saint Marcella of Rome. Saint Jerome called Marcella "the glory of the ladies of Rome."
Fascinated by Monks
As a small girl Marcella heard Saint Athanasius speak; his stories of the Desert Fathers of Egypt enthralled her, planting deep in her heart the seeds of a future marked by asceticism and devoted to the Word of God. Marcella married but was widowed after only seven months. She resisted the social pressure to remarry. When an elderly Roman consul proposed to leave her all his money if she would marry him, Marcella replied, "If I wished to marry, I should look for a husband, not an inheritance."
A School of Prayer
The young widow's home became an academy for the study of Sacred Scripture and a school of prayer. Saint Paula and other Roman ladies, eager for the pursuit of holiness, joined her. Marcella frequently visited the shrines of the Roman martyrs, seeking their intercession. She distributed her considerable wealth, "preferring to store her money in the stomachs of the needy rather than hide it in a purse."
A Mind of Her Own
Marcella was a woman of no mean intellectual prowess. While she respected her spiritual father Saint Jerome, the crusty ascetic did not intimidate her. More than once she challenged him with difficult and subtle questions concerning the Scriptures. It was for Marcella that Saint Jerome wrote his explanation of the Hebrew words Amen and Alleluia.
Jerome and Marcella
Saint Jerome's frequent visits to Marcella's home provided grist for Rome's ecclesiastical scandal mill. Wagging tongues delighted in speculating on what the priest Jerome could possibly be doing in the widow Marcella's home where he spent so many hours. Saint Jerome calls Rome a " slander-loving place where the triumph of vice was to disparage virtue and to defile all that is pure and clean." It was this relentless and cruel gossip that, among other things, caused Saint Jerome to leave Rome for the Holy Land. Saint Jerome maintained a close correspondence with Marcella until her death after the sack of Rome in 410.
She Clung to Christ
In a letter to the Roman lady Principia, Saint Jerome compares Marcella to the prophetess Anna in Saint Luke's Gospel. "Let us then compare her case with that of Marcella," he says, "and we shall see that the latter has every way the advantage. Anna lived with her husband seven years; Marcella seven months. Anna only hoped for Christ; Marcella held Him fast. Anna confessed Him at His birth; Marcella believed in Him crucified. Anna did not deny the Child; Marcella rejoiced in the Man as king" (Saint Jerome, Letter 127). This is Jerome's spiritual portrait of Marcella: she clung to Christ, believed in Him crucified, and rejoiced in Him as King.
Full of Christ
Several of Saint Jerome's letters to Marcella survive and are well worth reading. Among the sayings of Saint Marcella, my favourite one comes from the period in her life when a humiliated Rome was in the throes of a famine and Marcella herself was languishing after having been turned out of her own home. She was eighty-five at the time, and she said: "By heaven's grace, captivity has found me a poor woman, not made me one. Now, I shall go in want of daily bread, but I shall not feel hunger since I am full of Christ."