Let Nothing Affright Thee
July 23, 2007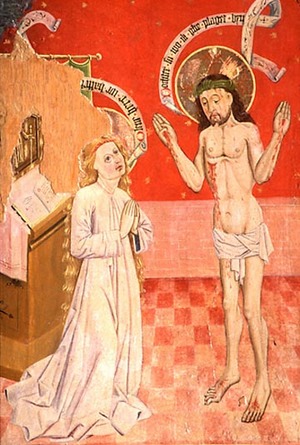 This medieval image is not directly related to today's reflection on the lesson from the Book of Exodus read at Mass. It depicts Saint Birgitta in conversation with the wounded Christ. One who walks in the path traced by the saints — trust, thanksgiving, submission to the Will of God, and adoration — will necessarily grow closer to Christ in His bitter Passion. The Passion of Christ is the fulfillment and completion of the mystery prefigured in Israel's Exodus. Does not Our Lord appear to be saying to Saint Birgitta, "Fear not, stand firm, and you will see the salvation of the Lord" (Ex 14:13)?

The Sins That Misshape Us
Already, in this exciting fourteenth chapter of the Book of Exodus, the characteristic sins of the people of Israel begin to emerge. Characteristic sins? Each of us has them. A characteristic sin is a fault that, by dint of being repeated, shapes, or rather misshapes, one's personality. A characteristic sin is the root of many other sins that both derive from it and feed it.
Four Sins of the Exodus
One can easily identify four characteristic sins of the people of Israel: 1) lack of trust in God; 2) murmuring against God and against the leaders set over them; 3) rebellion and disobedience; 4) and, finally, idolatry. Note the sequence of these sins. At the origin of them all is a lack of trust in God; this lack of trust manifests itself in fear. Lack of trust leads directly to murmuring against God Himself and against those who represent Him. Murmuring sets the stage for rebelliousness: a willful and malevolent expression of pride and disobedience. Rebelliousness opens the way to idolatry. Once one has rebelled against God and the authority constituted by Him, one is driven to erect idols in their place.
Be Still
In today's lesson from Exodus, we see the first two sins clearly. The people lack trust in God their Saviour. They murmur against Moses, the leader and liberator given them by God. Moses replies in words that we all do well to heed: "Fear not, stand firm, and see the salvation of the Lord, which He will work for you today . . . . The Lord will fight for you, and you have only to be still" (Exodus 14:13-14). "You have only to be still" — this is Moses' way of saying, "Allow God to be God; allow the mighty Saviour to save you; allow the merciful One to liberate you."
This is something we often resist. We insist that things be done our way, and on our terms. We do not trust God, nor do we trust those whom He has set over us. We murmur against God and against his representatives. If we persist in these patterns of sin, we will, sooner or later, find ourselves in a state of rebelliousness and of hostility to divine authority. In the end, we will set up idols in place of the God we will have rejected.
Repentance
One must lay the axe to this sequence of sin as soon as it begins to appear. The moment you find yourself falling into any one of these four sins, repent and make repeated acts of the good disposition that opposes it.
Let Nothing Disturb Thee
Counter your lack of trust in God with acts of confidence in His unfailing Providence. Our Lord says, "I tell you, do not be anxious about your life, what you shall eat or what you shall drink, nor about your body, what you shall put on" (Matthew 6:25). In moments of temptation repeat "Saint Teresa's Bookmark":
Let nothing disturb thee,
Nothing affright thee;
All things are passing;
God never changeth;
Patient endurance
Attaineth to all things;
Who God possesseth
In nothing is wanting;
Alone God sufficeth.
Thanksgiving
Counter your murmuring with acts of thanksgiving. Thank God for all that He has permitted or ordained in your life from the moment of your conception right up to the present instant. Cultivate a spirit of gratitude.
Bless the Lord, O my soul;
and all that is within me, bless His holy Name!
Bless the Lord, O my soul, and forget not all His benefits,
who forgives all your iniquity, who heals all your diseases,
who redeems your life from the pit,
who crowns you with steadfast love and mercy (Psalm 102:1-4).

Not My Will, But Thine Be Done
Counter your rebellion with acts of submission to the adorable Will of God. Unite your soul to the prayer of Jesus to the Father in Gethsemani: "Father, if Thou art willing, remove this cup from me; nevertheless not my will, but Thine be done" (Luke 22:42). This prayer of Mother Yvonne-Aimée de Jésus, first edited in 1927, has been in my psalter for at least twenty years:
I come to Thee, my God,
so that Thou might give unto me,
so that I might ask of Thee,
I come to hope in Thee,
to be as nothing before Thee,
to submit myself to Thee.
O my King of Love,
accomplish Thou in my soul
the wonderful works of Thy goodness.

Ever Adoring
Finally, make reparation for your idolatries great and small with ceaseless acts of adoration. "The hour cometh and now is, when the true adorers shall adore the Father in spirit and in truth" (John 4:23). All of the above dispositions are contained in adoration. One who adores God, trusts Him, thanks Him, and submits to Him. The stillness of adoration predisposes the soul to receive the wound of love. I often use the prayer of Elizabeth of the Trinity:
O my God, Trinity whom I adore,
let me entirely forget myself that I may abide in you,
still and peaceful as if my soul were already in eternity;
let nothing disturb my peace nor separate me from you,
O my unchanging God,
but that each moment may take me further into the depths of your mystery ! Pacify my soul! Make it your heaven,
your beloved home and place of your repose;
let me never leave you there alone,
but may I be ever attentive,
ever alert in my faith, ever adoring
and all given up to your creative action.