In memoria aeterna erit justus
June 6, 2007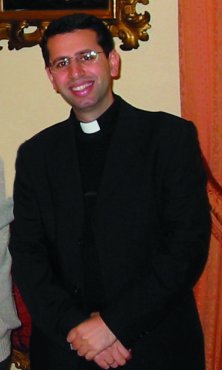 Father Ragheed Ganni
Chaldean Rite Catholic Priest
Diocese of Mosul, Iraq
Lord, we pray Thee
grant that the soul of the priest Thy servant Ragheed
whom during his earthly sojourn
Thou didst honour with sacred office,
may evermore find joy
in the glories of heaven.
Through our Lord Jesus Christ, Thy Son,
Who is God,
living and reigning with Thee
in the unity of the Holy Ghost,
for ever and ever.
Born 20 January 1972 – Ordained 13 October 2001 – Died 3 June 2007
Student at the Pontifical Irish College 1996 – 2003
Requiem Mass for Father Ragheed will be celebrated according to the Chaldean funeral tradition on the "Third Day" in the College Chapel, Pontifical Irish College,
Thursday 7 June 2007 at 16.00.