Mary, Teacher and Mother of the Church
April 28, 2007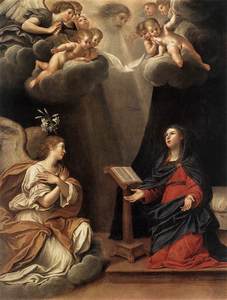 From the lineamenta for the forthcoming Synod on the Word of God:
Mary, Every Believer's Model of How to Welcome the Word
11. In penetrating the mystery of the Word of God, Mary of Nazareth, from the moment of the Annunciation, remains the Teacher and Mother of the Church and the exemplar of every encounter with the Word by individuals or entire communities. She welcomes the Word in faith, mediates upon it, interiorizes it and lives it (cf. Lk 1:38; 2:19,51; Acts 17:11). Indeed, Mary listened to and meditated upon the Scriptures; she associated them with Jesus' words and the events which she discovered were related to his life. Isaac of Stella says: "In the inspired Scriptures, what is said in a universal sense of the virgin mother, the Church, is understood in an individual sense of the Virgin Mary…. The Lord's inheritance is, in a general sense, the Church; in a special sense, Mary; and in an individual sense, the Christian. Christ dwelt for nine months in the tabernacle of Mary's womb, he dwells until the end of the ages in the tabernacle of the Church's faith. He will dwell for ever in the knowledge and love of each faithful soul."
The Virgin Mary knows how to take into account what is happening around her and live the necessities of daily life, fully aware that what she receives as a gift from her Son is a gift for everyone. She teaches us not to stand by as idle spectators before the Word of Life, but to become participants, allowing ourselves to be led by the Holy Spirit, who abides in believers. She "magnifies" the Lord, discovering in her life the mercy of God, who makes her "blessed," because "she believed that there would be a fulfilment of what had been spoken to her from the Lord" (Lk 1:45). She invites every believer to put Jesus' words into practice: "Blessed are those who have not seen yet believe" (Jn 20:29). Mary is the paradigm of the person who truly prays the Word and knows how to keep the lamp of faith burning in daily life. St. Ambrose observes that every Christian believer conceives and begets the Word of God. According to the flesh, Christ has only one mother; but, according to the faith, everyone gives him birth.