Third Day of the Novena
February 20, 2007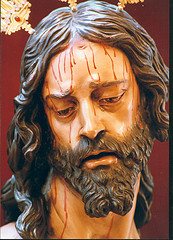 Today is the third day of our novena to Saint Gabriel of the Addolorata. At the Mass of the Holy Face we will be reading from the Passion of Our Lord Jesus Christ according the Prophet Isaiah. Trusting in the intercession of Saint Gabriel, bring to the bruised and wounded Christ every bruise, every wound, every sorrow and infirmity of those for whom you are interceding in this novena. Remember that Christ Himself, the Immaculate Lamb, was judged as one "struck by God and afflicted."
Saint Gabriel of the Sorrowful Mother, imbued with the charism of Saint Paul of the Cross, learned that the wounds of Jesus are wellsprings of healing. He prayed every day, "Holy Mother, this impart, Deeply print within my heart, All the wounds my Saviour bore."
Despised, and the most abject of men,
a man of sorrows, and acquainted with infirmity:
and His look was as it were, hidden and despised,
whereupon we esteemed Him not.
Surely He hath borne our infirmities and carried our sorrows:
and we have thought of Him as it were a leper,
and as one struck by God and afflicted.
But He was wounded for our iniquities,
He was bruised for our sins:
the chastisement of our peace was upon Him,
and by His bruises we are healed (Is 53:3–5).
Click here for the Novena Prayers.