Seventh Day of the Novena
February 24, 2007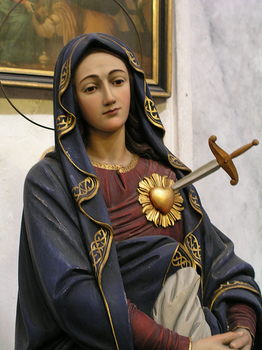 The Merciful Christ wants us for Himself. "I have not come to call the righteous, but sinners to repentance" (Lk 5:32). And should anyone out of shame, or confusion, or fear, hesitate in answering His call, there is, very close, the presence of a Mother, a reconciling Mother, the Mother of Mercy and the Refuge of Sinners, the Blessed Virgin Mary.
I have known souls incapable of saying a heartfelt Act of Contrition and yet able to say the Hail Mary with humble sincerity. The strange and wonderful thing is that one who perseveres in saying the Hail Mary will be led gently, but inexorably, to true contrition and to compunction of heart.
Priests should never despair of penitents who return to Confession again and again with the same sins, even if these be grave sins. There is a sure and certain remedy: humble recourse to the Immaculate Mother of God.
Saint Alphonsus, one of the Church's wisest spiritual physicians, knew that when all else fails, humble supplication to the Blessed Virgin Mary obtains miracles of grace. My own pastoral experience has taught me that the undoing of certain patterns of sin belongs in a special way to the Blessed Virgin. When one opens the door of one's heart to her, she enters quietly and sweetly and, in the full force of her humility and purity, crushes the head of the menacing serpent.
It is worthy of note that the Collection of Masses of the Blessed Virgin Mary contains five formularies for use during Lent. Elements of these can be used most suitably when integrated with the Saturday Lenten Mass and with the Lenten lectionary. The Blessed Virgin Mary, the beloved Addolorata of Saint Gabriel, facilitates every return to her Son. With a gentle hand, she leads all who are sin-sick and weary to the Physician of souls.
Click here for the Novena Prayers.