Ninth Day of the Novena
February 26, 2007
Yesterday in his Angelus address, Pope Benedict XVI returned to the subject of his Lenten message: the contemplation of the Sacred Side of Jesus, pierced by the soldier's lance. Saint Gabriel of the Addolorata lived profoundly and passionately the contemplation of Jesus Crucified with the Blessed Virgin Mary and with Saint John the Beloved Disciple to which the Holy Father is inviting the whole Church this Lent. This is what he said: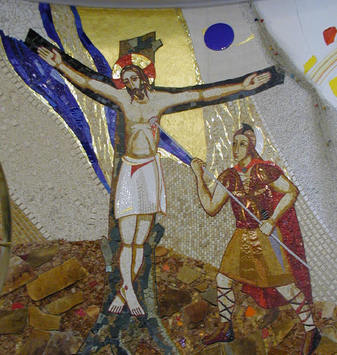 Him Whom They Have Pierced
This year, the Lenten message is inspired in the verse of John's Gospel, which in turn goes back to a messianic prophecy of Zechariah: "They shall look on him whom they have pierced" (John 19:37).

Contemplation of Jesus Crucified
The beloved disciple, present with Mary, the Mother of Jesus, and the other women on Calvary, was an eyewitness of the thrust of the spear which pierced Christ's side, so that blood and water came out (cf. John 19:31-34). This gesture of an unknown Roman soldier, destined to be lost in oblivion, was imprinted on the eyes and heart of the apostle, who recounted it in his Gospel. In the course of the centuries, how many conversions have taken place precisely thanks to the eloquent message of love that he receives who contemplates Jesus crucified!

With Our Gaze Fixed on Jesus' Side
Therefore, we enter the Lenten season with our gaze fixed on Jesus' side. In the encyclical letter "Deus Caritas Est" (cf. No. 12), I wished to underline that only by gazing on Jesus, dead on the cross for us, can we know and contemplate this fundamental truth: "God is love" (1 John 4:8,16). "In this contemplation the Christian discovers the path along which his life and love must move" ("Deus Caritas Est," No. 12).
Sin and Mercy
Contemplating the Crucified with the eyes of faith, we can understand profoundly what sin is, its tragic gravity, and at the same time the incommensurable power of the Lord's forgiveness and mercy. During these days of Lent, let us not distance our hearts from this mystery of profound humanity and lofty spirituality.

An Inexhaustible Torrent of Merciful Love
On contemplating Christ, let us feel at the same time that we are contemplated by him. He whom we ourselves have pierced with our faults does not cease to shed over the world an inexhaustible torrent of merciful love. May humanity understand that only from this source is it possible to draw the spiritual energy indispensable to build that peace and happiness for which every human being is ceaselessly searching.

She Whose Soul Was Pierced
Let us pray to the Virgin Mary, whose soul was pierced next to her Son's cross, to obtain for us the gift of a firm faith. That, guiding us on our Lenten journey, she may help us leave everything that impedes us from listening to Christ and his word of salvation.
Click here for the Novena Prayers.