Eighth Day of the Novena
February 25, 2007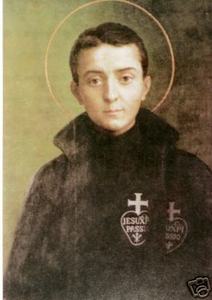 Saint Gabriel of the Addolorata, even from his place in glory, makes friends easily. Like Saint Thérèse of the Child Jesus and of the Holy Face, he spends his eternity doing good on earth. He has the most charming way of making his presence known, of offering counsel, of showing sympathy, of placing his intercession at the service of the poor, the sick, the fearful, and the lonely. When necessary, he has been known to appear to those who need his presence: a smiling youth in his black Passionist habit. He has also been known to whisper a word of comfort or direction at precisely the right moment. With all who invoke him he shares his own tender and confident love for the Blessed Virgin Mary.
In the lesson formerly assigned to Matins on the feast of Saint Gabriel, we read:
In the novitiate, day by day he became conspicuous for regular observance and for the exercise of all the virtues, and in a short time he came to be considered a pattern of perfect holiness, not only by his companions and his seniors, but also beyond the confines of the monastery ; he became a sweet odour in Christ in every place. An assiduous devotee of the Lord's Passion, he spent days and nights meditating upon it. He was drawn by unbelievable zeal towards the Holy Eucharist, a memorial of that Passion ; and when he nourished himself with it, he burned with seraphic ardour. There was nothing more noticeable than his filial piety towards the great Mother of God. He was accustomed to pay her honour for every type of devotion, but especially to contemplate her stricken and afflicted by the sufferings of Jesus, with such sorrow that he shed floods of tears. The sorrowful Virgin was, as it were, the whole reason of his being, and the teacher of the holiness that he had acquired.
Click here for the Novena Prayers.