Sacred Signs
November 9, 2006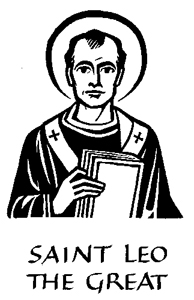 Saint Leo is a model of holiness for all of us. While all are not called to preach, and very few indeed are chosen to teach from Peter's Chair, all, without exception, are called to hear the Word of God, to repeat it and to turn it to prayer. All are called to the priestly service of God, each member according to his rank in the Body of Christ that is the Church. In today's Office reading Saint Leo reminds us of this very thing: "In baptism the sign of the cross makes kings of all who are reborn in Christ, and the anointing of the Holy Spirit consecrates them priests."
Each of us lives out the baptismal priesthood by making of all of life a procession to the altar, by making of every action a holy oblation, by entering into the victimhood of Christ. Is not this the teaching of the Apostle: "I beseech you therefore, brethren, by the mercy of God, that you present your bodies a living sacrifice, holy , pleasing unto God, your reasonable sacrifice" (Rom 12:1).
We also remember today our dear friend Adé Béthune, greatly devoted to Saint Leo — not in any conventionally pious way, but with unswerving integrity and zeal. Adé lived toward the altar. Everything in her work and in her life had a Eucharistic finality. I cannot forget the reverence and awe with which she always spoke of Holy Mass — never simply Mass, always Holy Mass.
When, back in the 1940s, Adé began her workshop in Newport for the service of the praying Church, she placed it under the protection of Saint Leo. When she began her association for the promotion of good craftsmanship and art in the service of the sacred liturgy, she called it the Saint Leo League. She had one of her apprentices make a blue & white tile icon of Saint Leo in the traditional Portuguese style to adorn the outside of her shop on Washington Street. As a little girl, Adé's nickname was "Lion" — lion. When she began taking in apprentices in her Newport studio, she dubbed them her "cubs." Adé's name as a Benedictine Oblate was Sister Leo.

Adé had a way of seizing a single line from Sacred Scripture, the Liturgy, or the Fathers, and living from its meaning. She did this with a single line of Saint Leo the Great: "The visible presence of our Redeemer has passed over into sacred signs" (Ascension Sermon). When Adé launched her journal to promote good work in the service of the liturgy: art in all its forms, calligraphy, architecture, design, and yes, plainchant — she was an ardent apostle of plainchant until her death — she called it Sacred Signs, quoting Saint Leo.
Adé illustrated a book by Romano Guardini called "Sacred Signs." Saint Leo's theology of "Sacred Signs" became for her a guiding principle, a passion, a truth, a wisdom for which she sacrificed all else. Adé was a true Benedictine Oblate; in her professional work as in her personal life, she "preferred nothing whatsoever to the Work of God" (RB 43:3).
"The visible presence of our Redeemer has passed over into sacred signs" (Ascension Sermon). We need sacred signs, for in them we discern the face, the voice, the touch of Christ. Sacred Signs are given us in the liturgy: water, oil, bread, wine, fire, light, incense, colour, movement, and space. The Word itself is a Sacred Sign, revealing and concealing Christ ever present, ever speaking. What we transact at the altar day after day — the Holy Mass — is transacted through Sacred Signs.
May it be given us today to discern in Sacred Signs the presence of our Redeemer. And may Adé, the faithful disciple of Saint Leo the Great, rejoice to see face to face in heaven the Mysteries she sought to make visible here in sacred signs of her own making.