Thou Discernest My Thoughts From Afar
October 10, 2006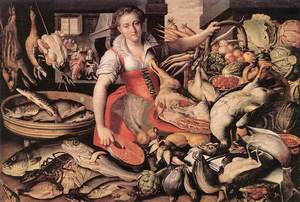 I am preaching today not on the Gospel (Luke 10:38–42), but on the Responsorial Psalm. All the same, I wanted to post this marvelous painting of Saint Martha in her kitchen (Vincenzo Campi, d. 1591). (Click on it to see it enlarged.) It looks exactly like a scene out of Babette's Feast. Through the kitchen window one sees Our Lord in intimate conversation with Mary who is seated next to him. Her feet are crossed: a lovely detail.
TUESDAY OF THE TWENTY–SEVENTH WEEK OF THE YEAR II
Galatians 1:13–24
Psalm 138:1–3, 13_14ab, 14c_15 (R. 24b)
Luke 10:38–42
From My Mother's Womb
I wonder if in your lectio divina this morning you found the link between the First Reading and the Responsorial Psalm? Saint Paul, recounting the story of his conversion to Christ and apostleship, says: "He who from my mother's womb had set me apart and called me through his grace, was pleased to reveal his Son to me" (Gal 1:15). There you have it! "From my mother's womb. . . ." (Gal 1:15). Today, in the words of Psalm 138, it is the Apostle Paul who prays, "For thou didst form my inward parts, thou didst knit me together in my mother's womb. I praise thee, for I am fearfully, wonderfully made. Wonderful are thy works" (Ps 138:13-14).
The Prayer of Paul
The Holy Spirit has inspired the Church to sing Psalm 138, repeat it, and pray it in a variety of voices. On Easter Day, the liturgy places Psalm 138 in the mouth of the risen Christ; He sings it to the Father with accents of unparalleled tenderness. On June 24th, the liturgy places the same psalm in the mouth of the infant John the Baptist. In fact, today's Responsorial Psalm is identical to that given for the Mass of the Nativity of Saint John the Baptist. Today, however, the psalm belongs to Saint Paul. He sings it for us to hear. Psalm 138 becomes for us a window into the soul of the Apostle. It allows us to hear something of his prayer; it allows us to enter into his prayer, to pray as he prays.

A Prayer in Times of Doubt
Not only is Psalm 138 the prayer of Christ, of John the Baptist, and of Paul. It is our prayer: my prayer and yours, a prayer given us for those moments when, in sorrow, or astonishment, or thanksgiving, or fear, we review our life stories and try to discern in them the traces of God's mysterious plan for us. Psalm 138 is especially suitable for the times in life when we are haunted by self-doubt or, even more painfully, tempted to doubt the plan of God for us. When even our own thoughts confuse us, when we do not understand ourselves, our motives, the twists and turns that we have taken, it is time to pray Psalm 138: "O Lord, thou hast searched me and known me! Thou knowest when I sit down and when I rise up; thou discernest my thoughts from afar. Thou searchest out my path and my lying down, and art acquainted with all my ways" (Ps 138:1-3).
All My Thought Is Known to Thee
Look at the verbs used to describe God's doings in the first four verses of the psalm: "thou knowest when I sit down and when rise up, thou discernest my thoughts from afar. Thou searchest out my path and my lying down, and art acquainted with all my ways." Monsignor Knox's translation of the same verses allows us to hear them in another key: "Lord, I lie open to thy scrutiny, thou knowest me; knowest when I sit down and when I rise up again, canst read my thoughts from far away. Walk I or sleep I, thou canst tell; no movement of mine but thou art watching it. Before ever the words are framed on my lips, all my thought is known to thee" (Ps 138:1-4).
Our Secret Sins in the Light of Thy Face
There is a very simple form of prayer that consists simply in lying open to the scrutiny of God. It is a fearful prayer and, at the same time, a healing one because the scrutiny of God is the merciful scrutiny of love. Psalm 89 describes this kind of prayer in other words: "Thou hast set our inquities before thee, our secret sins in the light of thy face" (Ps 89:8). I think Saint Paul understood this kind of prayer; if he did not, how could he have written in First Corinthians, "I do not even judge myself. . . . It is the Lord who judges me. Therefore do not pronounce judgment before the time, before the Lord comes, who will bring to light the things now hidden in darkness and will disclose the purposes of the heart" (1 Cor 4:3-5).
Contemplation of the Holy Face
Often our secret prayer will be no more than this: a kind of lying open before the merciful Face of Christ. "Lord Jesus, I open my life to the merciful scrutiny of your Face. You know me better than I know myself. You read my thoughts from afar; read them now that I have drawn near to you and, in your mercy, draw near to me that I may read on your Face the secrets of your Heart." This is the kind of oratio that the lectio and the meditatio of Psalm 138 can cause to well up from deep within. It can lead, if we are willing to wait on divine grace, to the contemplatio of Christ's Holy Face.
An Exorcism of the Fears That Haunt Us
Saint Paul was a complex man: at once confident and diffident, articulate — even eloquent — and yet in prayer obliged to resort to inarticulate groanings, secure in his apostleship and yet fearful of what others thought of him. We are all complex and sometimes our complexities become so entangled that, even with our best efforts, we are incapable of sorting them out. This is when we need to pray Psalm 138. Call upon God to make simple what is complicated, to discern the good in us and take away the bad. Subject yourself to the merciful scrutiny of the Face of Christ and you will come to know the love of His Heart. Psalm 138 is an exorcism of the fears that haunt us; it is an act of abandonment to the providence of God; a prayer for healing that bares before God wounds that, of ourselves, we would be unable to locate or to touch.
Fearfully, Wonderfully Made
We go to the altar today, giving thanks that we are "fearfully, wonderfully made" (Ps 138:14), and confident that He who sustains us with his Body and Blood will also "guide us," as the psalm says, "along the everlasting way" (Ps 138: 15).