If Today You Hear Her Voice, Harden Not Your Hearts
October 31, 2006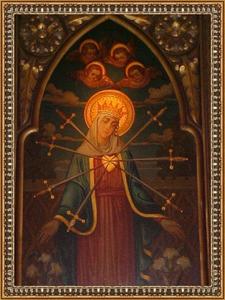 "There is nothing that I will not do for sinners."
The Blessed Virgin Mary, the Queen of All Saints is also the Mother of Mercy and the Refuge of Sinners. There is nothing that she will not do to help a fallen sinner rise from his sin. There is nothing that she will not do to draw a sinner to the Heart of her Son.
Though sinless from the moment of her conception, Mary is not repulsed by sinners; on the contrary, she is drawn to sinners. God has given her a Heart full of pity for sinners. Mary will pursue a sinner to the very gates of hell, pleading for him and pleading with him to stretch out his hand to hers. Only in the light of glory will we see the immense number of sinners rescued by the Mother of God and brought, by the ministrations of her mercy, to great holiness.
There are, I think, certain sinners whom it pleases Our Lord to reserve for his Mother. In some way, He entrusts them to her Heart and leaves them in her hands. Sinners who accept this particular disposition of the Mercy and Wisdom of God will necessarily become saints. In heaven they will shine with a particular glory reflected from Mary's Immaculate Heart.
This perhaps is why Saint Bernard, Saint Alphonsus, the Curé of Ars and so many other saints, when confronted with hardened sinners, abandoned them into the hands of Mary as their final recourse. What no preacher can do, what no tears can obtain, Mary does and Mary obtains. While the Blessed Virgin Mary is the Queen of All Saints, she is even more the Queen of those whom she herself delivered from bondage to sin. There is nothing in the Virgin Mary that is not wholly at the service of the Mercy of God.