Angels appointed to watch over us (VII: The First Degree)
May 30, 2018
29 Jan. 30 May. 29 Sept.
Let us be on our guard, then, against evil desires, since death hath its seat close to the entrance of delight; wherefore the Scripture commandeth us, saying: "Go not after thy concupiscences" (Ecclesiasticus18:30). Since, therefore, "The eyes of the Lord behold the good and the evil," and "The Lord is ever looking down from heaven upon the children of men, to see who hath understanding or is seeking God" (Psalm 13:2), and since the works of our hands are reported to Him day and night by the angels appointed to watch over us; we must be always on the watch, brethren, lest, as the prophet saith in the psalm, God should see us at any time declining to evil and become unprofitable; and lest, though He spare us now, because He is merciful and expecteth our conversion, He should say to us hereafter: "These things thou didst and I held my peace" (Psalm 49:20).
"Go not after thy concupiscences" (Ecclesiasticus18:30). One understands that concupiscence, as Saint Benedict uses the word here, refers to the craving after pleasure that drives a man towards what is evil. Concupiscence is not, however, in itself, sinful; rightly harnessed, one's concupiscence can become a driving force towards what is good. One can, for example, crave the delight that comes from wisdom, or virtue, or living in the presence of God. Concupiscence moves a man towards a pleasurable good, towards an object in which he will take delight. To show that concupiscence can be directed towards God, Saint Thomas quotes the psalmist: "My heart and my flesh have rejoiced in the living God" (cf. First Part of the Second Part: Question 30).
Our Lord says, "And from the days of John the Baptist until now, the kingdom of heaven suffereth violence, and the violent bear it away" (Matthew 11:12); and concerning Himself, He says, "I am come to cast fire on the earth: and what will I, but that it be kindled?" (Luke 12:49). On the night before He suffered, He says,"With desire I have desired to eat this pasch with you, before I suffer" (Luke 22:15). It is a good thing to show oneself passionate about our monastic vocation, provided that one's passion does not turn to a bitter zeal. A monk without passion for his vocation is salt that has lost its savour. "You are the salt of the earth. But if the salt lose its savour, wherewith shall it be salted? It is good for nothing any more but to be cast out, and to be trodden on by men" (Matthew 5:13). When a man knocks at the door of our monastery, I look to see if there is fire in his eyes.
When concupiscence is misdirected it becomes like a missile gone off course. All sort of desires rise in a man's consciousness. Not all of them are good. Not all of them are healthy. Not all of them are aligned with the Will of God. The tricky part is that sometimes things that are very wrong can tickle one's fancy. All a man's thoughts and desires must be scrutinised in the light of God. A man's every thought must be taken captive and brought into subjection to Christ, according to the word of the Apostle:
For the weapons of our warfare are not carnal, but mighty to God unto the pulling down of fortifications, destroying counsels, and every height that exalteth itself against the knowledge of God, and bringing into captivity every understanding unto the obedience of Christ. (2 Corinthian 10:4–5)
A man cannot control the emergence of every desire and impulse. Certain evil thoughts — pride, rash judgment, vainglory, violence, suspicion, sadness, and impurity, to name just a few — can present themselves unsolicited and unannounced, like an unwelcome visitor who shows up at one's door. As soon as one becomes aware of the arrival of such an unwelcome visitor, he must be sent packing. Over time one becomes more experienced at recognising such intruders. One can almost hear their menacing footsteps on the path that leads up into one's consciousness; this gives one time to secure one's house and send to the intruder the clear message that he is unwanted and unwelcome.
But this know ye, that if the goodman of the house knew at what hour the thief would come, he would certainly watch, and would not suffer his house to be broken open. (Matthew 24:43)
Saint Benedict proposes a powerful defense against evil thoughts; it is the practice of the presence of God. I said to you in Monday's Chapter:
If you work or study in your cell, never let a quarter of an hour pass without pausing, however briefly, to acknowledge "the eye of the Divine Majesty" and to lift your heart and mind in prayer.
This is more than a rule for living well in one's cell; it is a principle that one can practice with great profit throughout the whole day, and wherever one happens to be. Repeated acts of acknowledgement of the presence of God are the beginning of a life of perpetual adoration. I have, in the past, suggested to you simple practices that foster an unbroken awareness of the presence of God: the habitual use of Holy Water; frequent and very brief random visits to the Most Blessed Sacrament; the rumination of a verse of Sacred Scripture; the repetition of an invocation of the Holy Name of Jesus; the Rosary prayed throughout the day; frequent spontaneous prayers to the Mother of God; and there are many others besides these. Saint Benedict speaks explicitly of the Holy Angels appointed to watch over us, that is, our Holy Guardian Angels. There is a long Benedictine tradition of devotion to the Holy Guardian Angels; one sees a compelling example of this in the life of Dom Gérard, the founder of Le Barroux. Do not fail to enlist the good services of your Guardian Angel in routing evil thoughts and desires. Some sophisticated and clever types may scoff at such simple expressions of devotion. Their pride will be their undoing. The monk who, in spite of his learning and theological qualifications, has preserved a childlike and humble faith, will never disdain such lowly means: simple practices that are within the reach of all, even of the littlest souls.
The monk who has opened the door of his heart to the Mother of God, in imitation of the Beloved Disciple who, as he himself relates it, "took her to his own" (John 19:27), will be spared many exhausting struggles against evil thoughts. When a novice or a monk abandons himself to the Blessed Virgin Mary's guidance and begins to follow her inspirations, he experiences that the battle with his thoughts is simplified and, in effect, reduced to a single tactic. Such a brother casts every evil thought under the feet of the Immaculate Mother of God and, then, goes his way peacefully, without fear, in holiness and rightmindedness. After each victory over his thoughts, he recognises that the Blessed Virgin Mary has visited him and helped him. "And whence is this to me, that the mother of my Lord should come to me?" (Luke 1:43).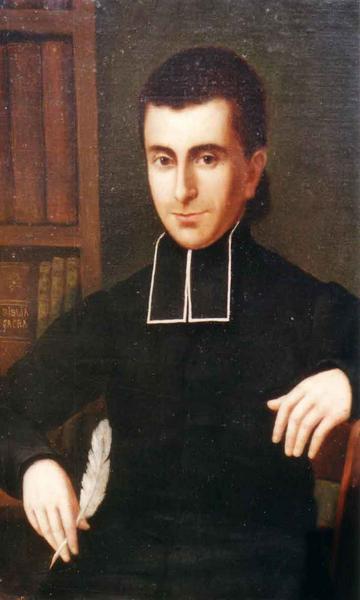 There is one other thing that I want to share with you in this regard: five years ago I read Yves Chiron's biography of Blessed Louis–Edouard Cestac (1801–1868), a French priest beatified in May 2015. Monseigneur Marc Aillet wrote the introduction to the book. On 13 January 1864, Blessed Father Cestac was suddenly struck by a ray of divine light. He saw devils scattered throughout the earth, wreaking inexplicable ravages. At the same time, the Blessed Virgin Mary appeared to him. The Mother of God told Blessed Father Cestac that devils had indeed been let loose in the world, and that the hour had come to pray to her as Queen of Angels. The Mother of God invited Blessed Father Cestac to pray her to send out legions of Angel to fight and rout the powers of Hell. "Mother", said Father Cestac, no mean theologian, "thou who art so good, couldst thou not send them without being asked?" "No", answered the Blessed Virgin Mary. "Prayer is a condition set by God Himself to obtain graces". "So Mother", replied the priest, "wouldst thou thyself teach me how one must pray to thee?" And Blessed Father Cestac received from the Most Blessed Virgin the prayer: August Queen. Immediately, Father Cestac submitted the prayer to Msgr Lacroix, the Bishop of Bayonne, who deigned to approve it. Blessed Father Cestac had  500,000 copies printed and had them sent everywhere. At the time of the first printing, the printing press broke down twice. I find Blessed Cestac's prayer pertinent at the present hour in Ireland, but also whenever one senses that "our wrestling is not against flesh and blood; but against principalities and powers, against the rulers of the world of this darkness, against the spirits of wickedness in the high places" (Ephesians 6:12). Here is the prayer:
August Queen of Heaven, sovereign Mistress of the Angels, thou who from the beginning hast received from God the power and the mission to crush the head of Satan, we humbly beseech thee to send thy holy legions, that under thy command and by thy power they may pursue the evil spirits, encounter them on every side, resist their bold attacks, and drive them hence into eternal woe.

Who is like unto God?

O good and tender Mother, thou willest always to be our love and our hope. O Mother of God, send thy holy Angels to defend us and drive far from us the cruel enemy. Holy Angels and Archangels, defend us and keep us. Amen.