So that I might begin to live in simplicity, like a child
October 21, 2018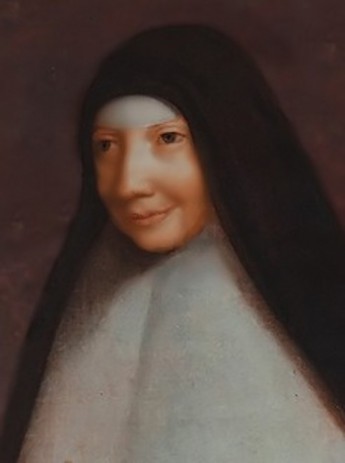 Catherine–Mectilde de Bar was the 17th century herald of Thérèse, the Doctor of the Little Way. The passages below are taken from a conversation of 28 March 1694, after Mother Mectilde had recovered from a life–threatening illness. In translating the texts, I was astonished by the striking spiritual affinities between the doctrine of the Benedictine of the Most Holy Sacrament," who lived to the age of 84, and the Carmelite of Lisieux, who died at the age of 24. Both are numbered among the little ones to whom it pleases the Father to reveal things hidden from those whom the world judges wise and prudent.
Let us bring to Him in a spirit of humility all our faults, our miseries. If we commit involuntary faults, we ought not to be astonished. If you fall, put yourself even lower than than you have fallen. Own your misery before Our Lord. There, you may believe, is that of which you are capable. Cry out to him and He will pardon you. If your faults are voluntary, you must cry all the louder. He will not grow weary of pardoning you. Our Lord is so easy to satisfy. I would never have believed it, but I have learned it. I had, all the same, to make some sacrifices that were a little hard and painful, but they were sweetened by the gentleness of Our Lord.
Yes, my children, there is an ineffable grace in abandonment, which conducts the soul into the very bosom of God. I find nonetheless that there is even something more [in what happens] when the soul utterly relinquishes herself. I say this because in abandonment we still have ourselves in view, but when we relinquish ourselves, we desert ourselves. There are very few who desert themselves, because returning over our own interests makes us take back what we had abandoned. This is how I learned to forsake myself: after two or three days of my sickness, my imagination caused me to see my judgment. God granted me the mercy of putting me in a state of abandonment and desertion of myself. At the same time my soul was shown to me as a rag, and I saw that rag all marked by God. This made me understand that God wanted me to let go of myself the way one lets go of a rag. No sooner does one pick it up from the ground—if indeed one picks it —than one puts it somewhere out of the way. One does not store it away in a coffer. In truth, my children, it is good to be a rag! God sent me back [from being ill to the point of death] so that I might begin to live in simplicity, like a child, all abandoned to Him without taking myself back.
I see nothing more consoling and more ravishing for a soul than to say: God is my Father. In several places of the Gospel, this is shown us, and it even seems purposely to be made a commandment as in today's Gospel: "Call none your father upon earth; for one is your father, who is in heaven"(Mt 23:9). This word that He says to Saint Magdalene after His resurrection charms me: "I ascend to my God and your God, to my Father and to your Father" (Jn 20:17). What a consolation for a soul: my God is my God, but He is also my Father!
The day before yesterday, after Holy Communion, it seemed to me that my soul was crying after sinners and saying to them, "Come, come, sinners! Come see the ineffable love of a God and the wonders that He works in souls. Come see this bottomless abyss of mercy and of love! Abyssus abyssum! (Ps 41:8). He is God, but also He has a Father's heart. The admirable thing: He who is the Principle of the Most Holy Trinity is my Father! The Father of a God is my Father! And this is a verity of faith that we must believe in as firmly as in the Most Blessed Sacrament, because Jesus Christ said it.
You see that He did not say, "Be ye perfect as My heavenly Father is perfect"; He said, rather, "as Your heavenly Father is perfect." We have a divine origin. What glory for us, my Sisters, to have a God for Father! What? He who is my God is my Father! Let us, then, entrust ourselves to Him. No, my Sisters, He will not abandon you. Poison you may have in your heart, but you will not die of it. He is a just God; He is also infinitely good. Believe me: lean more to the side of goodness than of justice. No, He in no way wills to see souls perish, this I have already told you. He loves them and carries them all in His adorable Heart.