Dominus de caelo semper respicit (VII:4)
January 29, 2018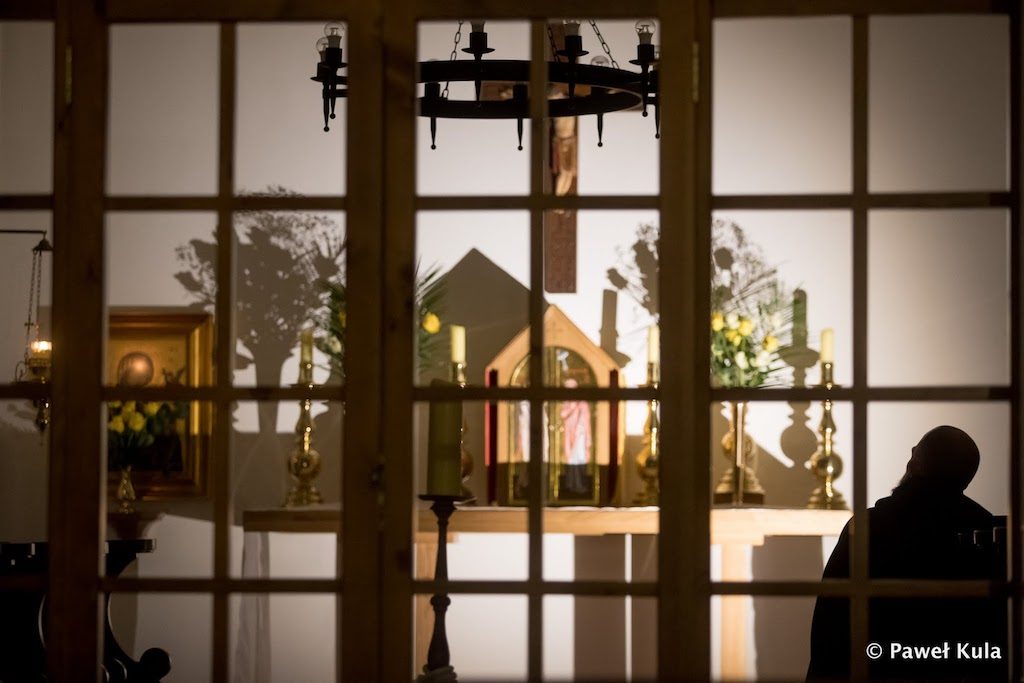 CHAPTER VII. Of Humility
29 Jan. 30 May. 29 Sept.
Let us be on our guard, then, against evil desires, since death hath its seat close to the entrance of delight; wherefore the Scripture commandeth us, saying: "Go not after thy concupiscences." Since, therefore, "The eyes of the Lord behold the good and the evil," and "The Lord is ever looking down from heaven upon the children of men, to see who hath understanding or is seeking God", and since the works of our hands are reported to Him day and night by the angels appointed to watch over us; we must be always on the watch, brethren, lest, as the prophet saith in the psalm, God should see us at any time declining to evil and become unprofitable; and lest, though He spare us now, because He is merciful and expecteth our conversion, He should say to us hereafter: "These things thou didst and I held my peace."
God in Search of Man
There are two passages in this portion of Chapter VII that I find particularly consoling: "The eyes of the Lord behold the good and the evil" (Proverbs 15:3) and "The Lord is ever looking down from heaven upon the children of men, to see who hath understanding or is seeking God" (Psalm 52:3). The Father is, at every moment, searching the face of the earth to see who hath understanding or is seeking God.
Sed venit hora, et nunc est, quando veri adoratores adorabunt Patrem in spiritu et veritate. Nam et Pater tales quærit, qui adorent eum.

But the hour cometh, and now is, when the true adorers shall adore the Father in spirit and in truth. For the Father also seeketh such to adore him. (John 4:23)
The Father seeks those who seek Him The Father seeks true adorers who will adore Him in spirit and in truth. So passionate is the Father's search for souls who search for Him that He sent His only-begotten Son into the world to reveal to them His Face and His Heart. Again, so tender is the Father's search for souls who search for Him that He sends his angels to watch over them and guide them in the way.
Quaerens me, sedisti lassus:
Redemisti Crucem passus:
Tantus labor non sit cassus.


Faint and weary, Thou hast sought me,
Crucified hast dearly bought me;
Shall such grace be vainly brought me? (Sequence Dies Irae)
This poignant verse from the Dies Irae refers to Our Lord's encounter with the Samaritan woman at the well, Weary and parched, Jesus sits on the edge of the well — Quaerens me, sedisti lassus. There Jesus reveals that the Father, who is everywhere present and holds all things in His hand, seeks adorers in spirit and in truth. "In his hand are all the ends of the earth: and the heights of the mountains are his" (Psalm 94:4). The same Father, omnipresent, omnipotent, omniscient, looks for souls who will adore Him by entering into the filial and priestly adoration of His Firstborn Beloved Son. This is, I think, revealed in the father of the prodigal son. Having come out of his house where he has waited for so long, sorrowing and remembering, he goes to a high place to scan the horizon for the silhouette of his returning son.
My Eyes Will Be Upon You
We read some weeks ago in the Prologue:
And when you have done these things, My eyes will be upon you, and My ears will be open to your prayers; and before you call upon Me, I will say unto you, "Behold, I am here".
Men seek God because God has first sought them. A man who discovers the gaze of God fixed upon him — a gaze of infinite love — searches for God even more. He never tires of saying, "Thou hast sought me that I might seek Thee. Thou hast found Me that I might find Thee." And with the psalmist:
My heart hath said to thee: My face hath sought thee: thy face, O Lord, will I still seek. Turn not away thy face from me. (Psalm 26:8–9)
And again, with Saint Augustine:
Late have I loved Thee, 0 Beauty so ancient and so new; late have I loved Thee! For behold Thou were within me, and I outside; and I sought Thee outside and in my unloveliness fell upon those lovely things that Thou hast made. Thou were with me and I was not with Thee. I was kept from Thee by those things, yet had they not been in Thee, they would not have been at all. Thou didst call and cry to my and break open my deafness: and Thou didst send forth Thy beams and shine upon me and chase away my blindness: Thou didst breathe fragrance upon me, and I drew in my breath and do not pant for Thee: I tasted Thee, and now hunger and thirst for Thee: Thou didst touch me, and I have burned for Thy peace. (Confessions, Book X, 27)
Truly Seeking God
The monk is simply a man who has understood that, apart from God, nothing makes sense; he forsakes all else to become a seeker of God. In Chapter LVIII Saint Benedict makes a man's true seeking after God (si revera Deum quaerit) the first of the criteria by which one discerns a monastic vocation: "Let a senior, one who is skilled in gaining souls, be appointed over him to watch him with the utmost care, and to see whether he is truly seeking God, and is fervent in the Work of God, in obedience and in humiliations."
The Tabernacle
Not only does the Lord look out from heaven in search of one who seeks Him: Christ looks out also from the tabernacle of every church where, hidden and silent, He waits for those who seek Him in the Sacrament of His Love. The monk's search for God — or that of any Christian — need not engage him in pilgrimages to far-off places and in wearying journeys across the desert. He need only approach the tabernacle, the tent of the Divine Humility pitched in the midst of men. All the theophanies of salvation history — the burning bush; the pillar of cloud and the pillar of fire in the desert; the thunder, lightning, fire, smoke, and trumpet blast on Sinai; the cloud of the glory of the Lord that filled the temple; the high and lofty throne seen by Isaias in the temple — all of these fall away before the humble theophany of the Host. In the adorable Sacrament of the Altar, God has made Himself close and, not only close, but utterly humble, totally available, and ready at every moment to draw us through the grace of adoration into friendship with Himself. "Behold, I stand at the gate, and knock. If any man shall hear my voice, and open to me the door, I will come in to him, and will sup with him, and he with me" (Apocalypse 3:20).