Days of Grace
September 29, 2017
I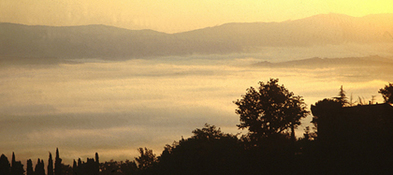 have always experienced the last days of September and the first week of October (September 29 — October 7) as a moment of spiritual enchantment within the Church Year. Is it the intoxicating effect of Saint Michael's Summer with the peculiar quality of its light? Is it the procession of saints that passes before our eyes, or should I say, through our hearts? These are days almost excessively rich in grace.
Saints Michael, Gabriel, and Raphael
Saints Michael, Gabriel, and Raphael descend first on September 29th, in a cloud of incense and a blaze of light. Christ Himself is all their beauty: decus angelorum. Ask them to teach you to gaze with faith and with holy desire upon the Face of Christ, the Human Face of God.
Saint Jerome
Saint Jerome follows on the 30th, absorbed in the Scriptures, with his lion plodding sleepily along beside him, stopping only for those who need a word of encouragement in the labour of lectio divina. Ask him to obtain for you the grace to practice lectio divina as a Holy Communion with Christ.
Saint Thérèse
On October 1st a young Carmelite smiles: Saint Thérèse of the Child Jesus and of the Holy Face, Doctor of the Church. As she passes she lets roses fall; she says nothing, but in her eyes shines a message of confidence for the sinners whose company she has always preferred. Ask her for an increase of hope.
The Holy Guardian Angels
The Holy Guardian Angels make themselves very close on the 2nd; they shine with the reflected glory of the Father's Face. They are grand, strong, fearless, and faithful. Ask them to wake you to the adorable presence of God at every moment and in every place.
Blessed Columba Marmion
On the 3rd there arrives an Irish Benedictine Abbot, ruddy-faced and stout, wreathed in smiles. It is Blessed Columba Marmion, destined to become, I think, the Doctor of Divine Adoption. There is no better spiritual director than Blessed Abbot Marmion. Ask for his counsel. Read his books. Learn his doctrine.
Saint Francis of Assisi
October 4th is ablaze with the Fire and Blood of Love Crucified; Saint Francis of Assisi is weeping. "Love is not loved," he says and, as every tear drop falls it becomes a splash of perfect joy. Ask that the Wounds of Christ be impressed deep within your heart.
Blessed Bartolo Longo and Saint Faustina
On October 5th there arrives a bespectacled, bearded gentleman holding a rosary. His name is Blessed Bartolo Longo, the Apostle of Pompei. Set free by the Holy Mother of God from the most frightful bondage to Satan, he emerged from a place of great darkness into a place of purity and light. Ask him for the grace of a deep and abiding devotion to the Most Holy Rosary.
Alongside of Blessed Bartolo Longo stands a very humble Polish religious, Saint Faustina, the Apostle of Divine Mercy.  In Blessed Bartolo, Saint Faustina recognizes a triumph of Divine Mercy, and he, in Saint Faustina recognizes an instrument of the Divine Mercy that, through Our Lady's intercession, broke into his life to rescue him from despair.
Saint Bruno
Saint Bruno passes on the 6th: silent, enclosed in the immensity God. He is the friend of all who, by choice or by circumstances, live alone. Ask him to teach you the secrets of his solitude.
Queen of the Most Holy Rosary
Finally on October 7th, the Blessed Virgin Mary, Our Lady of Victory, Queen of the Most Holy Rosary appears beautiful as a dove, like a rose growing by the rivers of water, mighty like to the tower of David whereupon there hang a thousand bucklers, all shields of mighty men. The Rosary of the Blessed Virgin Mary decapitates pride. It quiets the most violent passions and restores purity to hearts steeped in sin. It defeats armies and puts down the assaults of hell. It bestows the grace of ceaseless prayer. Ask the Queen of the Most Holy Rosary for the grace to cling to her by clinging to the humble prayer she so loves.