Patron Saint of Catholic Online–Journalists and Bloggers
March 27, 2017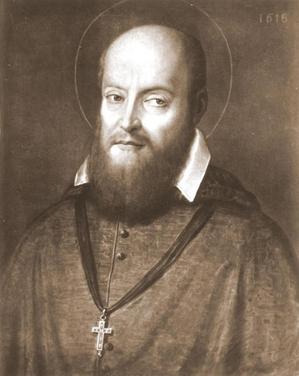 Saint Francis de Sales
Given that, in many cases, blogs have become a new form of journalism, or of political and ecclesiastical commentary, I propose that Saint Francis de Sales, proclaimed patron saint of journalists by Pope Pius XI in 1923, be further proclaimed the patron saint of internet journalists and bloggers. Catholics writing online need the teaching and intercession of the gentleman Doctor of the Church. Attend to Saint Francis de Sales:
Out of the Abundance of the Heart the Blogger Bloggeth
Saint James says, "If any man offend not in word, the same is, a perfect man." Beware most watchfully against ever uttering any unseemly expression; even though you may have no evil intention, those who hear it may receive it with a different meaning. An impure word falling upon a weak mind spreads its infection like a drop of oil on a garment, and sometimes it will take such a hold of the heart, as to fill it with an infinitude of lascivious thoughts and temptations. The body is poisoned through the mouth, even so is the heart through the ear; and the tongue which does the deed is a murderer, even when the venom it has infused is counteracted by some antidote preoccupying the listener's heart. It was not the speaker's fault that he did not slay that soul. Nor let any one answer that he meant no harm. Our Lord, Who knoweth the hearts of men, has said, "Out of the abundance of the heart the mouth speaketh." And even if we do mean no harm, the Evil One means a great deal, and he will use those idle words as a sharp weapon against some neighbour's heart. It is said that those who eat the plant called Angelica always have a sweet, pleasant breath; and those who cherish the angelic virtues of purity and modesty, will always speak simply, courteously, and modestly. As to unclean and light-minded talk, Saint Paul says such things should not even be named among us, for, as he elsewhere tells us, "Evil communications corrupt good manners."
When Blogs Are Like Wasps' Nests
Those impure words which are spoken in disguise, and with an affectation of reserve, are the most harmful of all; for just as the sharper the point of a dart, so much deeper it will pierce the flesh, so the sharper an unholy word, the more it penetrates the heart. And as for those who think to show themselves knowing when they say such things, they do not even understand the first object of mutual intercourse among men, who ought rather to be like a hive of bees gathering to make honey by good and useful conversation, than like a wasps' nest, feeding on corruption. If any impertinent person addresses you in unseemly language, show that you are displeased by turning away, or by whatever other method your discretion may indicate.
The Sin of Ridicule
One of the most evil dispositions possible is that which satirises and turns everything to ridicule. God abhors this vice, and has sometimes punished it in a marked manner. Nothing is so opposed to charity, much more to a devout spirit, as contempt and depreciation of one's neighbour, and where satire and ridicule exist contempt must be. Therefore contempt is a grievous sin, and our spiritual doctors have well said that ridicule is the greatest sin we can commit in word against our neighbour, inasmuch as when we offend him in any other way, there may still be some respect for him in our heart, but we are sure to despise those whom we ridicule.
Eutrapelia
There is a light-hearted talk, full of modest life and gaiety, which the Greeks called Eutrapelia, and which we should call good conversation, by which we may find an innocent and kindly amusement out of the trifling occurrences which human imperfections afford. Only beware of letting this seemly mirth go too far, till it becomes ridicule. Ridicule excites mirth at the expense of one's neighbour; seemly mirth and playful fun never lose sight of a trustful, kindly courtesy, which can wound no one. When the religious around him would fain have discussed serious matters with Saint Louis at meal-times, he used to say, "This is not the time for grave discussion, but for general conversation and cheerful recreation,"–out of consideration for his courtiers. But, my child, let our recreation always be so spent, that we may win all eternity through devotion. (Introduction to the Devout Life, Part III, Chapter 27)
Judging One's Neighbour
Judge not, and ye shall not be judged," said the Saviour of our souls; "condemn not, and ye shall not be condemned:" and the Apostle Saint Paul, "Judge nothing before the time, until the Lord come, Who both will bring to light the hidden things of darkness, and will make manifest the counsels of the hearts." Of a truth, hasty judgments are most displeasing to God, and men's judgments are hasty, because we are not judges one of another, and by judging we usurp our Lord's own office. Man's judgment is hasty, because the chief malice of sin lies in the intention and counsel of the heart, which is shrouded in darkness to us. Moreover, man's judgments are hasty, because each one has enough to do in judging himself, without undertaking to judge his neighbour. If we would not be judged, it behoves us alike not to judge others, and to judge ourselves. Our Lord forbids the one, His Apostle enjoins the other, saying, "If we would judge ourselves, we should not be judged." But alas! for the most part we precisely reverse these precepts, judging our neighbour, which is forbidden on all sides, while rarely judging ourselves, as we are told to do.
A Lurking Little Satisfaction in Beholding What is Wrong in Others
We must proceed to rectify rash judgments, according to their cause. Some hearts there are so bitter and harsh by nature, that everything turns bitter under their touch; men who, in the Prophet's words, "turn judgment to wormwood, and leave off righteousness in the earth."Such as these greatly need to be dealt with by some wise spiritual physician, for this bitterness being natural to them, it is hard to conquer; and although it be rather an imperfection than a sin, still it is very dangerous, because it gives rise to and fosters rash judgments and slander within the heart. Others there are who are guilty of rash judgments less out of a bitter spirit than from pride, supposing to exalt their own credit by disparaging that of others. These are self-sufficient, presumptuous people, who stand so high in their own conceit that they despise all else as mean and worthless. It was the foolish Pharisee who said, "I am not as other men are." Others, again, have not quite such overt pride, but rather a lurking little satisfaction in beholding what is wrong in others, in order to appreciate more fully what they believe to be their own superiority. This satisfaction is so well concealed, so nearly imperceptible, that it requires a clear sight to discover it, and those who experience it need that it be pointed out to them. Some there are who seek to excuse and justify themselves to their own conscience, by assuming readily that others are guilty of the same faults, or as great ones, vainly imagining that the sin becomes less culpable when shared by many. Others, again, give way to rash judgments merely because they take pleasure in a philosophic analysis and dissection of their neighbours' characters; and if by ill luck they chance now and then to be right, their presumption and love of criticism strengthens almost incurably.
Suspicion and Rash Judgments
Then there are people whose judgment is solely formed by inclination; who always think well of those they like, and ill of those they dislike. To this, however, there is one rare exception, which nevertheless we do sometimes meet, when an excessive love provokes a false judgment concerning its object; the hideous result of a diseased, faulty, restless affection, which is in fact jealousy; an evil passion capable, as everybody knows, of condemning others of perfidy and adultery upon the most trivial and fanciful ground. In like manner, fear, ambition, and other moral infirmities often tend largely to produce suspicion and rash judgments.
Everything Looks Yellow to a Man that Has the Jaundice
What remedy can we apply? They who drink the juice of the Ethiopian herb Ophiusa imagine that they see serpents and horrors everywhere; and those who drink deep of pride, envy, ambition, hatred, will see harm and shame in every one they look upon. The first can only be cured by drinking palm wine, and so I say of these latter,–Drink freely of the sacred wine of love, and it will cure you of the evil tempers which lead you to these perverse judgments. So far from seeking out that which is evil, Love dreads meeting with it, and when such meeting is unavoidable, she shuts her eyes at the first symptom, and then in her holy simplicity she questions whether it were not merely a fantastic shadow which crossed her path rather than sin itself. Or if Love is forced to recognise the fact, she turns aside hastily, and strives to forget what she has seen. Of a truth, Love is the great healer of all ills, and of this above the rest. Everything looks yellow to a man that has the jaundice; and it is said that the only cure is through the soles of the feet. Most assuredly the sin of rash judgments is a spiritual jaundice, which makes everything look amiss to those who have it; and he who would be cured of this malady must not be content with applying remedies to his eyes or his intellect, he must attack it through the affections, which are as the soul's feet. If your affections are warm and tender, your judgment will not be harsh; if they are loving, your judgment will be the same. Holy Scripture offers us three striking illustrations. Isaac, when in the Land of Gerar, gave out that Rebecca was his sister, but when Abimelech saw their familiarity, he at once concluded that she was his wife.A malicious mind would rather have supposed that there was some unlawful connection between them, but Abimelech took the most charitable view of the case that was possible. And so ought we always to judge our neighbour as charitably as may be; and if his actions are many-sided, we should accept the best. Again, when Saint Joseph found that the Blessed Virgin was with child, knowing her to be pure and holy, he could not believe that there was any sin in her, and he left all judgment to God, although there was strong presumptive evidence on which to condemn her. And the Holy Spirit speaks of Saint Joseph as "a just man." When a just man cannot see any excuse for what is done by a person in whose general worth he believes, he still refrains from judging him, and leaves all to God's Judgment. Again, our Crucified Saviour, while He could not wholly ignore the sin of those who Crucified Him, yet made what excuse He might for them, pleading their ignorance. And so when we cannot find any excuse for sin, let us at least claim what compassion we may for it, and impute it to the least damaging motives we can find, as ignorance or infirmity.
The Clouds and Fogs of One's Neighbour's Questionable Doings
Are we never, then, to judge our neighbour? you ask. Never, my child. It is God Who judges criminals brought before a court of law. He uses magistrates to convey His sentence to us; they are His interpreters, and have only to proclaim His law. If they go beyond this, and are led by their own passions, then they do themselves judge, and for so doing they will be judged. It is forbidden to all men alike, as men, to judge one another.
We do not necessarily judge because we see or are conscious of something wrong. Rash judgment always presupposes something that is not clear, in spite of which we condemn another. It is not wrong to have doubts concerning a neighbour, but we ought to be very watchful lest even our doubts or suspicions be rash and hasty. A malicious person seeing Jacob kiss Rachel at the well-side,or Rebecca accepting jewels from Eleazer,a stranger, might have suspected them of levity, though falsely and unreasonably. If an action is in itself indifferent, it is a rash suspicion to imagine that it means evil, unless there is strong circumstantial evidence to prove such to be the case. And it is a rash judgment when we draw condemnatory inferences from an action which may be blameless.
Those who keep careful watch over their conscience are not often liable to form rash judgments, for just as when the clouds lower the bees make for the shelter of their hive, so really good people shrink back into themselves, and refuse to be mixed up with the clouds and fogs of their neighbour's questionable doings, and rather than meddle with others, they consecrate their energies on their own improvement and good resolutions.
No surer sign of an unprofitable life than when people give way to censoriousness and inquisitiveness into the lives of other men. Of course exception must be made as to those who are responsible for others, whether in family or public life;–to all such it becomes a matter of conscience to watch over the conduct of their fellows. Let them fulfil their duty lovingly, and let them also give heed to restrain themselves within the bounds of that duty. (Introduction to the Devout Life, Part III, Chapter 28)
From rash judgments proceed mistrust, contempt for others, pride, and self-sufficiency, and numberless other pernicious results, among which stands forth prominently the sin of slander, which is a veritable pest of society. Oh, wherefore can I not take a live coal from God's Altar, and touch the lips of men, so that their iniquity may be taken away and their sin purged, even as the Seraphim purged the lips of Isaiah.He who could purge the world of slander would cleanse it from a great part of its sinfulness!
Slander Is a Kind of Murder
He who unjustly takes away his neighbour's good name is guilty of sin, and is bound to make reparation, according to the nature of his evil speaking; since no man can enter into Heaven cumbered with stolen goods, and of all worldly possessions the most precious is a good name. Slander is a kind of murder; for we all have three lives–a spiritual life, which depends upon the Grace of God; a bodily life, depending on the soul; and a civil life, consisting in a good reputation. Sin deprives us of the first, death of the second, and slander of the third. But the slanderer commits three several murders with his idle tongue: he destroys his own soul and that of him who hearkens, as well as causing civil death to the object of his slander; for, as Saint Bernard says, the Devil has possession both of the slanderer and of those who listen to him, of the tongue of the one, the ear of the other. And David says of slanderers, "They have sharpened their tongues like a serpent; adders' poison is under their lips."Aristotle says that, like the forked, two-edged tongue of the serpent, so is that of the slanderer, who at one dart pricks and poisons the ear of those who hear him, and the reputation of him who is slandered.
Unjust Imputation, Needless Disclosure, Exaggeration of Faults
My child, I entreat you never speak evil of any, either directly or indirectly; beware of ever unjustly imputing sins or faults to your neighbour, of needlessly disclosing his real faults, of exaggerating such as are overt, of attributing wrong motives to good actions, of denying the good that you know to exist in another, of maliciously concealing it, or depreciating it in conversation. In all and each of these ways you grievously offend God, although the worst is false accusation, or denying the truth to your neighbour's damage, since therein you combine his harm with falsehood.
Witty Slander: A Poison
Those who slander others with an affectation of good will, or with dishonest pretences of friendliness, are the most spiteful and evil of all. They will profess that they love their victim, and that in many ways he is an excellent man, but all the same, truth must be told, and he was very wrong in such a matter; or that such and such a woman is very virtuous generally, but and so on. Do you not see through the artifice? He who draws a bow draws the arrow as close as he can to himself, but it is only to let it fly more forcibly; and so such slanderers appear to be withholding their evil-speaking, but it is only to let it fly with surer aim and go deeper into the listeners' minds. Witty slander is the most mischievous of all; for just as some poisons are but feeble when taken alone, which become powerful when mixed with wine, so many a slander, which would go in at one ear and out at the other of itself, finds a resting-place in the listener's brain when it is accompanied with amusing, witty comments. "The poison of asps is under their lips." The asp's bite is scarcely perceptible, and its poison at first only causes an irritation which is scarcely disagreeable, so that the heart and nervous system dilate and receive that poison, against which later on there is no remedy.
No Right to Draw Deductions
Do not pronounce a man to be a drunkard although you may have seen him drunk, or an adulterer, because you know he has sinned; a single act does not stamp him for ever. The sun once stood still while Joshua and the children of Israel avenged themselves upon their enemies; and another time it was darkened at mid-day when the Lord was crucified;but no one would therefore say that it was stationary or dark. Noah was drunk once, and Lot, moreover, was guilty of incest, yet neither man could be spoken of as habitually given to such sins; neither would you call Saint Paul a man of blood or a blasphemer, because he had blasphemed and shed blood before he became a Christian. Before a man deserves to be thus stigmatised, he must have formed a habit of the sin he is accused of, and it is unfair to call a man passionate or a thief, because you have once known him steal or fly into a passion. Even when a man may have persisted long in sin, you may say what is untrue in calling him vicious. Simon the leper called Magdalene a sinner, because she had once lived a life of sin; but he lied, for she was a sinner no longer, but rather a very saintly penitent, and so our Lord Himself undertook her defence.
The Pharisee looked upon the publican as a great sinner,–probably as unjust, extortionate, adulterous;but how mistaken he was, inasmuch as the condemned publican was even then justified! If God's Mercy is so great, that one single moment is sufficient for it to justify and save a man, what assurance have we that he who yesterday was a sinner is the same to-day? Yesterday may not be the judge of today, nor to-day of yesterday: all will be really judged at the Last Great Day. In short, we can never affirm a man to be evil without running the risk of lying. If it be absolutely necessary to speak, we may say that he was guilty of such an act, that he led an evil life at such and such a time, or that he is doing certain wrong at the present day; but we have no right to draw deductions for to-day from yesterday, nor of yesterday from today; still less to speak with respect to the future.
Nor to Speak Well of Vice
But while extremely sensitive as to the slightest approach to slander, you must also guard against an extreme into which some people fall, who, in their desire to speak evil of no one, actually uphold and speak well of vice. If you have to do with one who is unquestionably a slanderer, do not excuse him under the expressions of frank and free-spoken; do not call one who is notoriously vain, liberal and elegant; do not call dangerous levities mere simplicity; do not screen disobedience under the name of zeal, or arrogance of frankness, or evil intimacy of friendship. No, my child, we must never, in our wish to shun slander, foster or flatter vice in others; but we must call evil evil, and sin sin, and so doing we shall serve God's Glory, always bearing in mind the following rules.
If you would be justified in condemning a neighbour's sin, you must be sure that it is needful either for his good or that of others to do so. For instance, if light, unseemly conduct is spoken of before young people in a way calculated to injure their purity, and you pass it over, or excuse it, they may be led to think lightly of evil, and to imitate it; and therefore you are bound to condemn all such things freely and at once, unless it is obvious that by reserving your charitable work of reprehension to a future time, you can do it more profitably.
The Sharp Razor of the Tongue
Furthermore, on such occasions it is well to be sure that you are the most proper person among those present to express your opinion, and that your silence would seem in any way to condone the sin. If you are one of the least important persons present, it is probably not your place to censure; but supposing it to be your duty, be most carefully just in what you say,–let there not be a word too much or too little. For instance, you censure the intimacy of certain people, as dangerous and indiscreet. Well, but you must hold the scales with the most exact justice, and not exaggerate in the smallest item. If there be only a slight appearance of evil, say no more than that; if it be a question of some trifling imprudence, do not make it out to be more; if there be really neither imprudence nor positive appearance of evil, but only such as affords a pretext for malicious slander, either say simply so much, or, better still, say nothing at all. When you speak of your neighbour, look upon your tongue as a sharp razor in the surgeon's hand, about to cut nerves and tendons; it should be used so carefully, as to insure that no particle more or less than the truth be said. And finally, when you are called upon to blame sin, always strive as far as possible to spare the sinner.
Take Pains to Mention What Is Favourable
Public, notorious sinners may be spoken of freely, provided always even then that a spirit of charity and compassion prevail, and that you do not speak of them with arrogance or presumption, or as though you took pleasure in the fall of others. To do this is the sure sign of a mean ungenerous mind. And, of course, you must speak freely in condemnation of the professed enemies of God and His Church, heretics and schismatics,–it is true charity to point out the wolf wheresoever he creeps in among the flock. Most people permit themselves absolute latitude in criticising and censuring rulers, and in calumniating nationalities, according to their own opinions and likings. But do you avoid this fault; it is displeasing to God, and is liable to lead you into disputes and quarrels. When you hear evil of any one, cast any doubt you fairly can upon the accusation; or if that is impossible, make any available excuse for the culprit; and where even that may not be, be yet pitiful and compassionate, and remind those with whom you are speaking that such as stand upright do so solely through God's Grace. Do your best kindly to check the scandal-bearer, and if you know anything favourable to the person criticised, take pains to mention it. (Introduction to the Devout Life, Part III, Chapter 29)