When God shall be all our love
July 23, 2016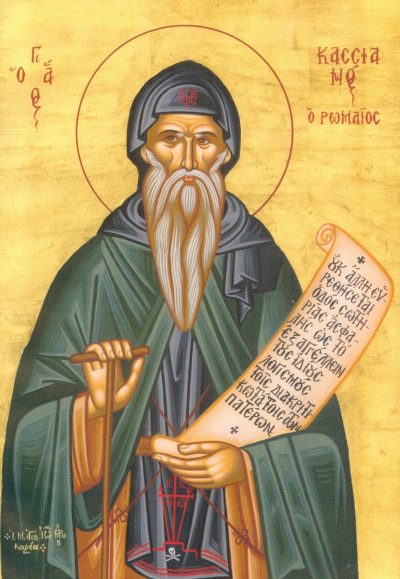 Today, 23rd July, is the onomastico (name day) of Brother Cassian Maria.
Dear Brother Cassian, today is your first nameday under the patronage of our holy and God–bearing father, Saint John Cassian. So great was Saint Benedict's esteem for Saint John Cassian that he refers to him twice in the Holy Rule, making him an obligatory reference for all who enroll in the "school of the Lord's service" (Holy Rule, Prologue). When you came to the monastery, dear son, you had already acquired the friendship of a vast company of saints. Since July 1st last, Saint John Cassian shines with a special radiance among all the saints with whom you have undertaken the monastic journey.
You will want to return again and again to Chapter VII of Saint Cassian's Conference X, On Prayer. It is for us monks an indispensable source of teaching on how a man can, by the grace of Christ, become a living flame of prayer. I find it consoling that Saint Cassian begins his teaching by sending us directly to the priestly prayer of Jesus in the 17th Chapter of Saint John. Therein lies, not only the pattern of our prayer, but the very cause of it. Jesus prays to His Father that we might pray and, more than pray, become all prayer. Saint Cassian says that this prayer of Jesus cannot possibly be ineffectual.
FOR then will be perfectly fulfilled in our case that prayer of our Saviour in which He prayed for His disciples to the Father saying "that the love wherewith Thou lovedst Me may be in them and they in us;" and again: "that they all may be one as Thou, Father, in Me and I in Thee, that they also may be one in us,"(John 17:26, 21) when that perfect love of God, wherewith "He first loved us" (1 John 4:16) has passed into the feelings of our heart as well, by the fulfilment of this prayer of the Lord which we believe cannot possibly be ineffectual.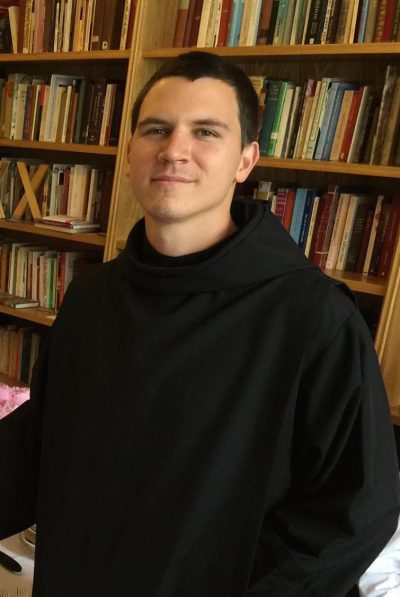 Saint Cassian would have us know that the ceaseless prayer, to which all monks aspire, is something that Our Lord Jesus Christ has already asked and obtained for us. It is something that He desires to give us, even before we ask for it. It is an infusion of Trinitarian love, a filial participation in the unity of the Three Divine Persons, the full flowering of the grace of filial adoption. It is this that we see, for example, in the experience of Saint Ignatius of Antioch, who writes: "My love has been crucified, and there is no fire in me desiring to be fed; but there is within me a water that lives and speaks, saying to me inwardly, Come to the Father" (Epistle to the Romans, Chapter 7). Saint Cassian explains further what he means, always referring to the 17th Chapter of Saint John, in which prayer is described as love, and love as the fountainhead of prayer:
And this will come to pass when God shall be all our love, and every desire and wish and effort, every thought of ours, and all our life and words and breath, and that unity which already exists between the Father and the Son, and the Son and the Father, has been shed abroad in our hearts and minds, so that as He loves us with a pure and unfeigned and indissoluble love, so we also may be joined to Him by a lasting and inseparable affection, since we are so united to Him that whatever we breathe or think, or speak is God, since, as I say, we attain to that end of which we spoke before, which the same Lord in His prayer hopes may be fulfilled in us: "that they all may be one as we are one, I in them and Thou in Me, that they also may be made perfect in one;" and again: "Father, those whom Thou hast given Me, I will that where I am, they may also be with Me." (John 17:22-24)
I have often said that we do well, every Thursday, to dedicate some time during our watches of adoration to reading the priestly prayer of Our Lord in the 17th Chapter of Saint John. This practice is something that Saint Cassian would most certainly approve, for he himself is steeped in the incandescent mystery of that same priestly prayer. Therein you will find the answer to all your questions and the fulfillment of all your desires. You have come to the monastery wanting God to be "all your love, and every desire and wish and effort, every thought of yours, and all your life and words and breath". You have come to the monastery desiring nothing more than to be joined to God by a lasting and inseparable affection, and this is, at once, the labour of prayer and its fruit.
This then ought to be the destination of the solitary, this should be all his aim that it may be vouchsafed to him to possess even in the body an image of future bliss, and that he may begin in this world to have a foretaste of a sort of earnest of that celestial life and glory. This, I say, is the end of all perfection, that the mind purged from all carnal desires may daily be lifted towards spiritual things, until the whole life and all the thoughts of the heart become one continuous prayer.
I would not want any one to think that all of this is somehow reserved to Brother Cassian because of the name he bears; it is the labour, and the love, and the life of every monk: to become one continuous prayer. In entering into the Holy Sacrifice today, we shall be like men in the midst of a consuming fire. That fire is the prayer of Jesus, Priest and Victim, in us, and our prayer in Him. By the intercession of Saint John Cassian may this prayer become ceaseless and, as the saint says, be for us a foretaste of heaven.