Now begin the mysteries
March 4, 2016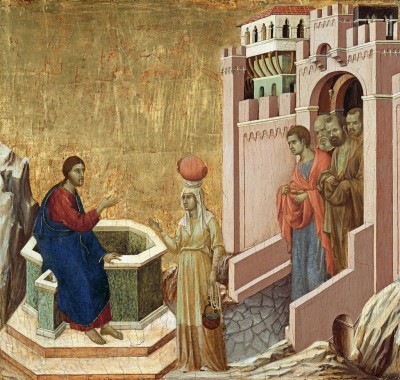 Saint Augustine preached this morning at Matins. The eloquence, the rhythm, the depth of his homily stir one to the depths of the soul. With Matins of the Friday after the Third Sunday of Lent something begins to change. The Lenten Fast picks up momentum. The Sixth Hour of the Sixth Day is fast approaching.
Homilia sancti Augustini Episcopi
Tract. 15. in Joannem, post init.
Jam incipiunt mysteria. Non enim frustra fatigatur Jesus: non enim frustra fatigatur virtus Dei: non enim frustra fatigatur, per quem fatigati recreantur: non enim frustra fatigatur, quo deserente fatigamur, quo praesente firmamur.
Now begin the mysteries. For it is not without a purpose that Jesus is weary; not indeed without a purpose that the strength of God is weary; not without a purpose that He is weary, by whom the wearied are refreshed; not without a purpose is He weary, by whose absence we are wearied, by whose presence we are strengthened.
Fatigatur tamen Jesus, et fatigatur ab itinere, et sedet, et juxta puteum sedet et hora sexta fatigatus sedet. Omnia ista innuunt aliquid, indicare volunt aliquid: intentos nos faciunt; ut pulsemus, hortantur. Ipse ergo aperiat et nobis et vobis, qui dignatus est ita hortari, ut diceret: Pulsate, et aperietur vobis.
Nevertheless Jesus is weary, and weary with His journey; and He sits down, and that, too, near a well; and it is at the sixth hour that, being wearied, He sits down. All these things hint something, are intended to intimate something, they make us eager, and encourage us to knock. May Himself open to us and to you; He who has deigned to exhort us, so as to say, Knock, and it shall be opened to you.
Ubi fatigatus est ab itinere Jesus. Invenimus virtutem Jesum; et invenimus infirmum Jesum: fortem, et infirmum. Fortem, quia in principio erat Verbum, et Verbum erat apud Deum, et Deus erat Verbum: hoc erat in principio apud Deum.
It was for you that Jesus was wearied with His journey. We find Jesus to be strength, and we find Jesus to be weak: we find a strong and a weak Jesus: strong, because in the beginning was the Word, and the Word was with God, and the Word was God: the same was in the beginning with God.
Vis videre quam iste Filius Dei fortis sit? Omnia per ipsum facta sunt, et sine ipso factum est nihil: et sine labore facta sunt. Quid ergo illo fortius, per quem sine labore facta sunt omnia?
Would you see how this Son of God is strong? All things were made by Him, and without Him was nothing made: and without labor, too, were they made. Then what can be stronger than He, by whom all things were made without labor?
Infirmum vis nosse? Verbum caro factum est, et habitavit in nobis. Fortitudo Christi te creavit: infirmitas Christi te recreavit. Fortitudo Christi fecit, ut quod non erat, esset: infirmitas Christi fecit, ut quod erat, non periret. Condidit nos fortitudine sua, quaesivit nos infirmitate sua.
Would you know Him weak? The Word was made flesh, and dwelt among us. The strength of Christ created you, the weakness of Christ created you anew. The strength of Christ caused that to be which was not: the weakness of Christ caused that what was should not perish. He fashioned us by His strength, He sought us by His weakness.