The Little Boy Who Prayed Many Rosaries
October 12, 2015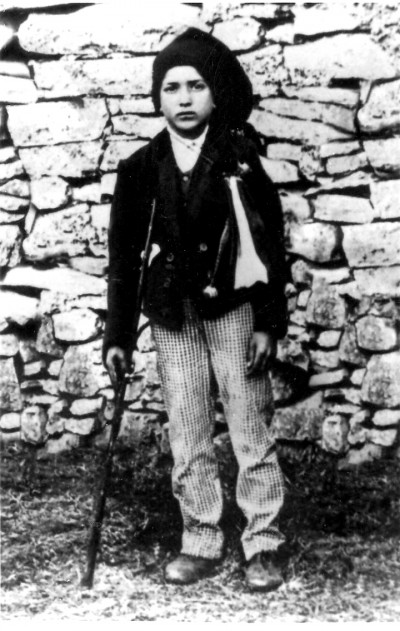 Many Rosaries
When the Blessed Virgin Mary appeared at Fatima in 1917 she said that little Francisco, then nine years old, would go to heaven but that first he would have to pray many Rosaries. After that the little boy was often seen praying the Rosary intently. What intrigues me is Our Lady's insistence on — I almost hesitate to say it — quantity! Many Rosaries!
There is something to be said for persevering in praying decade after decade, and Rosary after Rosary. When one cannot pray well, one should at least pray much. "And he told them a parable, to the effect that they ought always to pray and not lose heart" (Lk 18:1). One who prays Rosary after Rosary is, in effect, offering God the raw material of prayer, trusting that He, in His own time, will set it ablaze with the fire of the Holy Spirit.
One who prays "many Rosaries" presents to God a touching sign of the burning desire to be made worthy of the inestimable grace of ceaseless prayer. At times, the best one can do is to pray much, asking the Mother of God, all–powerful in her supplication, to obtain that the sheer materiality of one's prayers may be changed by the Holy Ghost into the "adoration in spirit and in truth" (Jn 4:24) that the Father seeks.
The Rosary of the Saints
Blessed John XXIII prayed all fifteen Mysteries of the Rosary daily. So too did the Servant of God, Father Marie–Joseph Lagrange, O.P., distinguished exegete and founder of the École Biblique of Jerusalem. Saint Pio of Pietrelcina prayed the Rosary ceaselessly, as did Saint Gaetano Catanoso, the humble Apostle of the Holy Face. The entire life of Saint John Paul II was imbued with the Holy Rosary.
The saints demolish our alibis: "I have no time; I am too busy." Are you then busier than John XXIII, Padre Pio, or John Paul II? There is a proven wisdom in beginning the first Rosary of the day before rising in the morning. That first waking rosary sets the tone for the rest of the day. The Rosary, prayed in free moments throughout the day and again at the day's end, becomes, almost imperceptibly, a form of ceaseless prayer.
One who "prays many Rosaries," as did Blessed Francisco of Fatima, will come quickly to live in Mary and with Mary. Mary will become for that soul, as Gerard Manley Hopkins says, "like the air we breathe." And where Mary is, the Holy Spirit descends mightily to heal, to deliver from sin, to glorify Christ, and to hide us with Christ and with His Mother in the bosom of the Father.