In Cenaculi Solitudine
May 16, 2015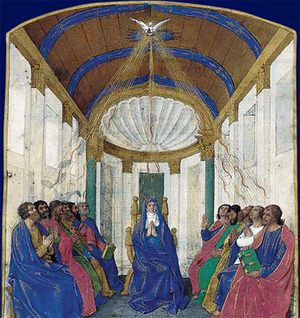 Our Lady of the Cenacle
Many years ago and long before I had any idea that I would one day play a role in establishing a monastery under the patronage of Our Lady of the Cenacle, I was searching out the treasures of my missal, and discovered, among the Masses for Certain Places, the Mass of Our Lady of the Cenacle for the Saturday within the Octave of the Ascension. The Proper texts of the Mass stirred my heart.
The Mass for today's feast was composed and approved in 1886 at the request of Mother Marie-Aimée Lautier, Superior General of the Congregation of the Cenacle. (The humble foundress of the Society of Our Lady of the Cenacle, Saint Thérèse Couderc, died in 1885.) It is a pity that, with Ascension Thursday being observed in so many places on the following Sunday, both the Pentecost Novena and the feast of Our Lady of the Cenacle are adversely affected.
Collect
Deus, qui beatam Mariam semper Virginem matrem tuam
in Cenaculi solitudine cum discipulis orantem
Sancti Spiritus donis cumulasti:
fac nos, quaesumus, cordis recessum diligere;
ut sic rectius orantes
Spiritus Sancti gratiis repleri mereamur.
O God, who, in the solitude of the Cenacle, didst fill with the gifts of the Holy Ghost
Blessed Mary ever Virgin, Thy mother, united in prayer with Thy disciples;
grant that we may so love to withdraw into the secret places of the heart
that by praying aright,
we may be made worthy to be filled with these graces in abundance.
Who with God the Father livest and reignest
in the unity of the same Holy Ghost,
one God, world without end.
Secret or Prayer Over the Oblations
Haec sacra, Domine, tibi in honorem beatae Mariae Virginis Matris tuae litantes.
humiliter petimus,
ut sicut ipsa verba tua sancta in corde suo sollicite servavit,
nobis quoque ejus intercessione concedas,
ita in lege tua assidue meditari,
ut fidelius opere implere eam valeamus.
Offering Thee, O Lord,
these sacred gifts in honour of the Blessed Virgin Mary Thy mother,
we humbly ask that,
by the example and intercession of her
who carefully kept Thy holy words in her heart,
we too may meditate Thy law assiduously,
so as to put it into practice more faithfully.
Postcommunion
Deus, qui fideles tuos in Cenaculi recessu cum Maria Matre tua sacratissima
perseverantes et unanimes in oratione effecisti:
praesta, quaesumus;
ut his quoque donis ornati et a saeculi strepitu segregati,
tibi soli in caritate perfecta vivamus.
O God, who to thy faithful withdrawn in the Cenacle,
didst grant perseverance in prayer in oneness of heart
with Mary, Thy most holy Mother,
grant, we beseech Thee, that we also,
graced with the same gift
and separated from the noise of the world,
may live for Thee alone in perfect charity.