Our Lady in the Chapter Room
July 16, 2014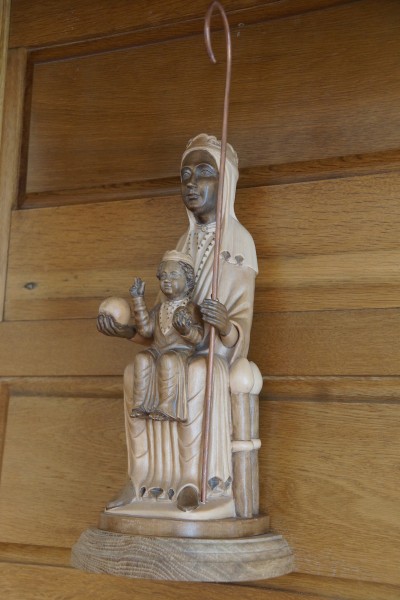 It occurred to me that today's feast of Our Lady of Mount Carmel is most suitable for letting readers of Vultus Christi see the wood–carved statue of the Blessed Virgin Mary (from Montserrat) that is now enthroned in our Chapter Room. The Child Jesus, Eternal Wisdom is seated in her lap. In one hand, the Mother of God holds the orb of the world, signifying that she is the Sovereign Lady and Queen of the Universe; in her other hand she holds the pastoral staff, signifying that we venerate and obey her as our Abbess.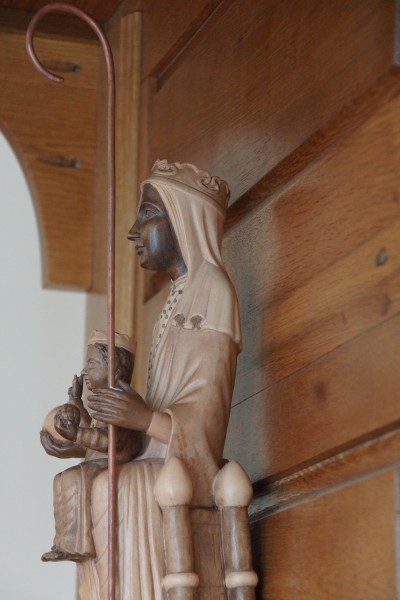 The Blessed Virgin Mary gazes ahead and, in her eyes of mercy, we see an unfailing hope and the assurance of her maternal care. The Son, who reigns from her lap as from a throne, is the King of Love in whose merciful goodness we place our trust.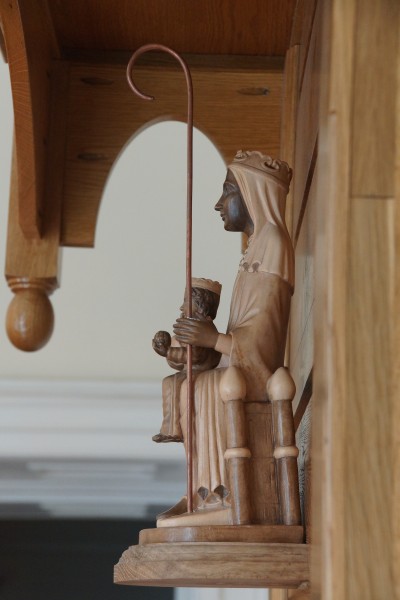 The statue of Our Lady Abbess is in the very centre of the Chapter Room; she is enthroned above the place where the prior sits each day to explain the Holy Rule, the instruct, comfort, encourage, and correct the brethren. To all who open the ear of their heart to her, Our Lady says: "I am the mother of fair love, and of fear, and of knowledge, and of holy hope. In me is all grace of the way and of the truth, in me is all hope of life and of virtue. Come over to me, all ye that desire me, and be filled with my fruits; for my spirit is sweet above honey, and my inheritance above honey and the honey-comb" (Ecclesiasticus 24:24–26).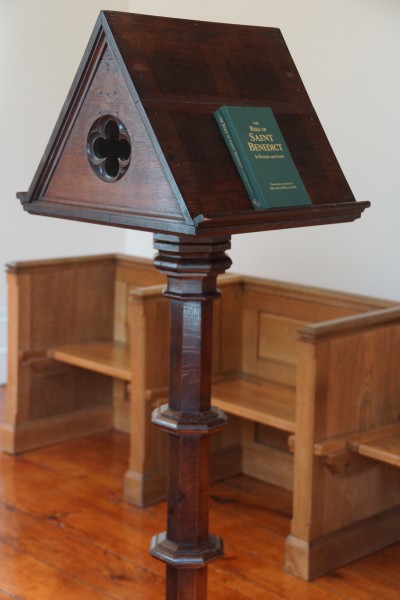 In the centre of the Chapter Room, between the two rows of oaken stalls, is the lectern bearing the book of the Holy Rule. The Chapter Room is so called because a chapter of the Rule of Saint Benedict is read and explained there each morning after Lauds. The daily Chapter is integral to a healthy monastic life; it keeps the text of the Holy Rule from becoming old, remote, and vague.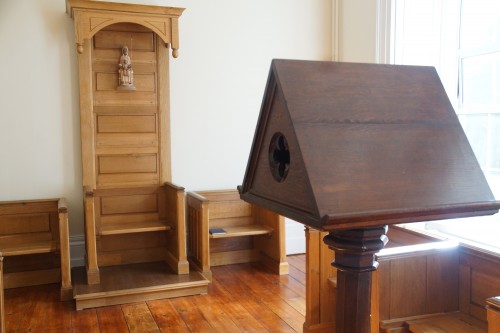 Here is a lovely photo of the morning sun streaming through the windows into the Chapter Room. The Mother of God, speaking through the sacred liturgy, says: "My memory is unto everlasting generations. They that eat me, shall yet hunger: and they that drink me, shall yet thirst. He that hearkeneth to me, shall not be confounded, and they that work by me, shall not sin. They that explain me, shall have life everlasting" (Ecclesiasticus 24: 28–31).