What Manner of Hands They Ought to Be
December 14, 2013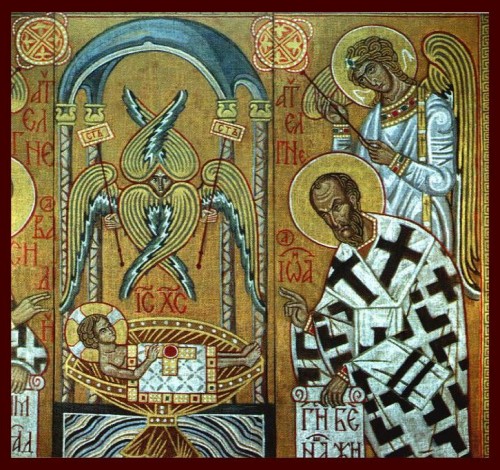 A Father Entrusted With the Whole World
He who acts as an ambassador on behalf of the whole city—but why do I say the city? on behalf of the whole world indeed—prays that God would be merciful to the sins of all, not only of the living, but also of the departed. What manner of man ought he to be? For my part I think that the boldness of speech of Moses and Elias, is insufficient for such supplication. For as though he were entrusted with the whole world and were himself the father of all men, he draws near to God, beseeching that wars may be extinguished everywhere, that tumults may be quelled; asking for peace and plenty, and a swift deliverance from all the ills that beset each one, publicly and privately; and he ought as much to excel in every respect all those on whose behalf he prays, as rulers should excel their subjects.
Angels Stand by the Priest
And whenever he invokes the Holy Spirit, and offers the most dread sacrifice, and constantly handles the common Lord of all, tell me what rank shall we give him? What great purity and what real piety must we demand of him? For consider what manner of hands they ought to be which minister in these things, and of what kind his tongue which utters such words, and ought not the soul which receives so great a spirit to be purer and holier than anything in the world? At such a time angels stand by the Priest; and the whole sanctuary, and the space round about the altar, is filled with the powers of heaven, in honour of Him who lieth thereon. For this, indeed, is capable of being proved from the very rites which are being then celebrated. I myself, moreover, have heard some one once relate, that a certain aged, venerable man, accustomed to see revelations, used to tell him, that he being thought worthy of a vision of this kind, at such a time, saw, on a sudden, so far as was possible for him, a multitude of angels, clothed in shining robes, and encircling the altar, and bending down, as one might see soldiers in the presence of their King, and for my part I believe it.
Saint John Chrysostom, On the Priesthood, Book VI