Ut Unum Sint (II:4)
May 13, 2013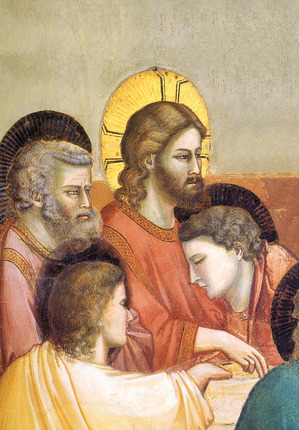 Chapter II. What Kind of Man the Abbot Ought to Be
12 Jan. 13 May. 12 Sept.
Let him make no distinction of persons in the monastery. Let not one be loved more than another, unless he be found to excel in good works or in obedience. Let not one of noble birth be put before him that was formerly a slave, unless some other reasonable cause exist for it. But if upon just consideration it should so seem good to the Abbot, let him arrange as he please concerning the place of any one whomsoever; but, otherwise, let them keep their own places; because, whether bond or free, we are all one in Christ, and bear an equal rank in the service of one Lord, "For with God there is no respecting of persons." Only for one reason are we preferred in His sight, if we be found to surpass others in good works and in humility. Let the Abbot, then, shew equal love to all, and let the same discipline be imposed upon all according to their deserts.
The Abbot is not to introduce worldly criteria of distinction into the monastery. Should the man of prestigious background and impressive academic credentials be preferred to the man of humble background and the simplest education? Should the man of robust health and unflagging physical strength be preferred to the man of frail constitution? Should the man who entered the monastery with a large bank account be preferred to the man who entered nearly penniless? Should the handsome man exuding charm be preferred to the man of quite ordinary appearance and retiring demeanour? The Abbot will recall what the Lord said to Samuel: "Look not on his countenance, nor on the height of his stature: because I have rejected him, nor do I judge according to the look of man: for man seeth those things that appear, but the Lord beholdeth the heart" (1 Samuel 16:7). Again, the Lord says, "But to whom shall I have respect, but to him that is poor and little, and of a contrite spirit, and that trembleth at my words?" (Isaias 66:2).
The Abbot will love his sons with a fatherly love, seeing in each one the natural gifts and weaknesses waiting to be transformed by grace. If he is to have any preference at all, it must be for the least lovable of the community, for the man who alienates others and reacts like a threatened porcupine when approached.
The obsession with rank and privilege that one sometimes encounters in monastic communities is a mark of the man who is afraid of being overlooked, discounted, or diminished. The underlying emotion is the fear of being abandoned. Such monks need constant reassurance because constantly they feel threatened. Even among the Apostles there was rankling over questions of priority and rank.
And there was also a strife amongst them, which of them should seem to be the greater. And he said to them: The kings of the Gentiles lord it over them; and they that have power over them, are called beneficent. But you not so: but he that is the greater among you, let him become as the younger; and he that is the leader, as he that serveth. For which is greater, he that sitteth at table, or he that serveth? Is not he that sitteth at table? But I am in the midst of you, as he that serveth. (Luke 22:24–27)
Saint Benedict uses this compelling phrase: "We are all one in Christ." The holy patriarch is quoting the Apostle, who says, "There is neither Jew nor Greek: there is neither bond nor free: there is neither male nor female. For you are all one in Christ Jesus" (Galatians 3:28). At an even deeper level, Saint Benedict is, in effect, inviting the Abbot to lead his monks into the depths of Our Lord's priestly prayer in the Cenacle:
That they all may be one, as thou, Father, in me, and I in thee; that they also may be one in us; that the world may believe that thou hast sent me. And the glory which thou hast given me, I have given to them; that they may be one, as we also are one: I in them, and thou in me; that they may be made perfect in one: and the world may know that thou hast sent me, and hast loved them, as thou hast also loved me. (John 17:21-23).
Who, then, is preferred in the sight of God? The little soul who bears fruit while remaining humble. "So you also, when you shall have done all these things that are commanded you, say: We are unprofitable servants; we have done that which we ought to do" (Luke 17:10).
While the same discipline must be imposed upon all, so too must all be treated with the same mercy, the same kindness in the face of weakness, and the same compassion in the hour of suffering.