The Two Annunciations
March 26, 2012
The Annunciation of the Lord is being celebrated today on the Monday of Passion Week; Friday will be the Commemoration of the Compassion of the Blessed Virgin Mary, Mother of Sorrows. The juxtaposition of the two feasts — and of the two mysteries — is extraordinarily rich. In 2005, when Good Friday fell on March 25th, I reflected with the Poor Clares in Barhamsville, Virginia on the intersection of these same two mysteries. Here is the homily I preached: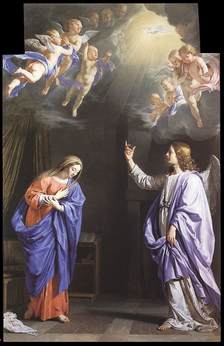 "O the depth of the riches and wisdom and knowledge of God!
How unsearchable are his judgments and how inscrutable his ways!
'For who has known the mind of the Lord,
or who has been his counselor?'" (Rom 11:33-34).
"None of the rulers of this age understood this;
for if they had, they would not have crucified the Lord of glory" (1 Cor 2:8).
We find ourselves today at the intersection of two mysteries,
or rather, at the heart of the One Mystery,
indivisible, and yet too rich to be taken in all at once:
Incarnation and Redemption,
Annunciation and Crucifixion,
Conception and Death.
The Western tradition, seeking clarity in distinctions
and respectful of chronos, the ordered time of the universe,
separates, fixing her gaze today on the wood of the Cross,
and promising to return in ten days time
"to a city of Galilee named Nazareth,
to a virgin betrothed to a man whose name was Joseph
of the house of David" (Lk 1:26-27).
The Eastern tradition, spiraling into kairos,
the ever-present immediacy of the God who is, who was, and is to come,
integrates, even liturgically,
the mysteries of the conceiving Virgin
and of the crucified Fruit of her womb.
One might argue as convincingly from one perspective as from the other,
but we are here not to debate but to contemplate.
The mute prostration at the beginning of this solemn liturgy,
— all of humanity flung down before the face of God in the person of the priest —
was an act of utter and unconditional surrender to the Mystery,
not to the Mystery as we see it,
poor myopic creatures, straining to transcend our limited perceptions,
but to the Mystery as it is
in its cruciform "breadth and length and height and depth" (cf. Eph 3:18),
and in "the love of Christ which surpasses knowledge" (Eph 3:19).
This is the crucifying and glorious knowledge
of "the unsearchable riches of Christ" (Eph 3:8)
by which one is "filled with all the fullness of God" (Eph 3:19).
This is the awareness that, like a sword, pierced the heart of the Virgin Mother,
"standing by the cross of Jesus" (Jn 19:25).
Even she watched him in the painful spasms of death,
she remembered his first stirrings in her womb,
and somehow sensed obscurely,
"as in a mirror dimly" (1 Cor 13:12),
that he would stir again beneath the shroud.
But for now, she saw the fruit of her womb
become the fruit of the tree
Thirty-three years had passed;
it seemed to her like yesterday.
"Sent by God" (Lk 1:26), that bright, majestic, creature had come to her,
–exquisitely courteous he was, and awful and lovely all at once —
and his greeting still astonished her:
"Hail, full of grace, the Lord is with you:
blessed are you among women" (Lk 1:28).
She remembered the shock of it,
and how she had "considered in her mind what sort of greeting this might be" (Lk 1:29).
Now his voice came to her again, and how she needed to hear it,
to lean on it, to steady herself against it, to cling to it
even as Abraham, "in hope believing against hope" (Rom 4:18),
had clung to the wild promises made by God to him:
"Fear not, Mary, for you have found grace with God" (Lk 1:30).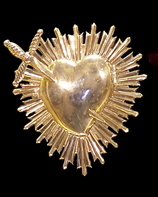 To see what she was seeing —
her Child stretched naked on the wood,
his hands and feet pierced,
his whole body bloodied,
his sweet face beneath a cruel crown of thorns —
to see this and yet believe in the word of the Angel
was to feel the two-edged sword's sharp blade
"piercing to the division of soul and spirit,
of joints and marrow" (Heb 4:12).
Could this be what Simeon meant:
"And your own soul a sword shall pierce" (Lk 2:35)?
The Angel had said more:
"And, behold, you shall conceive in your womb,
and shall bring forth a son;
and you shall call his name Jesus" (Lk 1:31).
This too she remembered, and lifting her eyes, she read "the inscription over him
in letters of Greek, and Latin, and Hebrew" (Lk 23:38):
"Jesus of Nazareth, the King of the Jews" (Jn 19:19).
For a moment she thought of her Joseph
she still missed him so — her friend, her comforter, her rock —
and she remembered what the Angel had said to him as well:
"You shall call his name Jesus,
for he will save his people from their sins" (Mt 1:21).
"He shall be great, and shall be called the Son of the Most High;
and the Lord God shall give unto him the throne of David his father;
and he shall reign in the house of Jacob forever.
And of his kingdom there shall be no end" (Lk 1:32-33).
Tell me, O Gabriel, is this bitter abjection his greatness?
Is this cross of execution his throne?
Is this defeat the inauguration of his kingdom?
Just then the thief crucified beside him spoke,
as if in answer to her torment:
"'Lord, remember me when you come into your kingdom.'
And Jesus said to him: 'Amen I say to you,
this day you shall be with me in paradise'" (Lk 23:42-43).
For an instant, she turned from the face of her Jesus
to the face of the thief,
and she felt herself a mother to him.
"For those whom God foreknew
he also predestined to be conformed to the image of her Son,
in order that he might be the first-born among many brethren" (cf, Rom 8:29).
With that, her Jesus spoke,
his gentleness like the breeze in the cool of the day,
his authority undiminished by the scourging, the mockery, and the taunts.
Seeing "his mother and the disciple whom he loved standing near,
he said to his mother, 'Woman, behold your son!'
Then he said to the disciple, 'Behold your mother!'" (Jn 19:25).
This was a new Annunciation, the second one:
the first, thirty-three years ago by the mouth of the Angel Gabriel;
this second one by the mouth of her Son,
lifted up with bloodied arms spread wide in place of shining wings.
Then, as now and forever, "no word shall be impossible with God" (Lk 1:37).
"Woman, behold your son!" (Jn 19:25).
To this Mary had no answer
apart from the one she had given the Angel then:
"Behold, the handmaid of the Lord;
be it done to me according to your word" (Lk 1:38).
She was to be mother, mother again and again.
Mother to John, to Dismas, to Mary Magdalene, to Peter, and to James,
mother to "the coming generation" and to "a people yet unborn" (Ps 21:30-31).
Mother of the Church.
"Afterwards, Jesus knowing that all things were now accomplished,
that the scripture might be fulfilled, said: 'I thirst'" (Jn 19:28)
and she knew in herself the torment that is the thirst of God
and tasted in her mouth the bitter vinegar,
and knew too that this new motherhood was given her
in this new annunciation
to quench the thirst of God with the children of her sorrowful heart:
adorers "in spirit and in truth" (Jn 4:23).
And as she recalled how at Nazareth the Holy Spirit had come upon her
and the power of Most High had overshadowed her (cf. Lk 1:35),
he said, "'It is consummated,' and bowing his head,
he gave up his spirit" (Jn 19:30).
She lifted her face to receive the breath of his mouth,
and remembered that the Angel too,
having accomplished that for which he was sent from God left her,
leaving God in her womb.
"And the angel departed from her" (Lk 1:38).
Afterwards they took his body down from the cross.
Strange that another Joseph should be there helping.
A strong and tender man.
And she remembered her Joseph, also strong and tender,
lifting that tiny newborn body in his calloused hands
to place it in the manger.
And she wept.
They placed his lifeless body in her arms.
He seemed so tired, so spent, so in need of his Sabbath rest.
Bits of a lullaby she used to sing to him went through her mind.
"Sleep, my Yeshua, sleep.
Sleep my Yeshua, sleep until you wake."
She remembered something he had said:
"I will come again and will take you to myself,
that where I am you may be also" (Jn 14:3).
And she repeated something he had prayed:
"Father, glorify your Son that the Son may glorify you" (Jn 17:1),
They placed him the tomb.
And the stone was rolled across the entrance,
sealing in her heart with his body.
To John she said:
"Come, son, take me home.
'He has torn, that he may heal us;
he has stricken, and he will bind us up.
After two days he will revive us;
and on the third day he will raise us up,
that we may live before him' (Hos 6:1-2)."
And John, saying nothing, looked into her eyes,
just as Jesus had earlier in the day,
and like Jesus, he believed her.