Conversion: Saint Paul's and Ours
January 25, 2012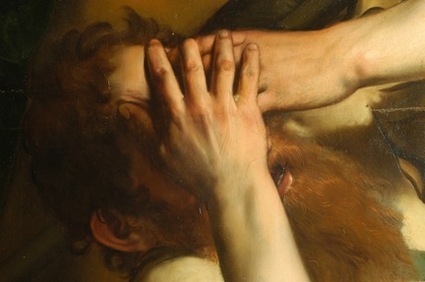 Image: A detail from the incomparable Caravaggio's Conversion of Saint Paul.
A Divine Inbreaking
For Benedictines who make a vow of conversion — conversatio morum — the feast of the Conversion of Saint Paul holds a special significance. For the Benedictine monk, the nun, or the Oblate, conversion is not a once-and-for-all event, it is a mystery of grace that unfolds day by day, hour by hour, and minute by minute. It is a Divine inbreaking that re-orders what is disordered in a soul; that re-shapes what is misshapen; and that calls one out of the darkness into the radiance of the glory of God shining on the Face of Christ.
Blind Me that I May See Rightly
One does not embrace the monastic way in order to settle into a tranquil routine of pious complacency. One embraces the monastic way in order to expose one's heart to the piercing two-edged sword of the Word of God, and to the wounding darts of Divine Love. One embraces the monastic way in order to blinded by Deifying Light, so as to see again not as one once saw, but with new eyes and from an altogether new perspective.
For God, who commanded the light to shine out of darkness, hath shined in our hearts, to give the light of the knowledge of the glory of God, in the face of Christ Jesus. (2 Corinthians 4:6)
Praying Against Oneself
One embraces the monastic life, in a certain sense, to pray tirelessly against one's own twisted and twisting proclivities, and to turn, and turn, and turn again, until one lives facing Christ or, as Blessed Elisabeth of the Trinity puts it, until one lives "with one's eyes in His eyes," avec les yeux dans ses yeux. To vow oneself to conversion of manners is to say relentlessly over an entire lifetime with the poet:
Batter my heart, three-personed God, for you
As yet but knock, breathe, shine, and seek to mend;
That I may rise, and stand, o'erthrow me, and bend
Your force to break, blow, burn, and make me new.
I, like an usurped town, to another due,
Labour to admit you, but Oh, to no end.
Reason, your viceroy in me, me should defend,
But is captived, and proves weak or untrue.
Yet dearly I love you, and would be loved fain,
But am betrothed unto your enemy:
Divorce me, untie or break that knot again,
Take me to you, imprison me, for I,
Except you enthrall me, never shall be free,
Nor ever chaste, except you ravish me.
(John Donne, Holy Sonnet XIV)
But in all these things we overcome, because of him that hath loved us. For I am sure that neither death, nor life, nor angels, nor principalities, nor powers, nor things present, nor things to come, nor might, nor height, nor depth, nor any other creature, shall be able to separate us from the love of God, which is in Christ Jesus our Lord. (Romans 8:37-39)
The Presence of Saint Paul
Why does Saint Paul hold, even after two thousand years, such sway over hearts and minds in every culture and nation? Why does Saint Paul continue to speak compellingly to every man and every woman? Why was Saint Augustine's life turned around so dramatically and so gloriously when he seized upon a book and, opening it, read from Saint Paul's Epistle to the Romans? Why is the Rule of Saint Benedict shot through with the Pauline passion for the love of Christ? Why, even in the conflicts that set believer against believer, did Saint Paul remain, on both sides of the conflict, the measure of what it means to belong to Christ? Why, in the last century did Saint Paul so capture the thought of Saint Thérèse of the Child Jesus and of the Holy Face, Doctor of the Church; of the Benedictine Abbot, Blessed Columba Marmion; of the young Carmelite, Blessed Elisabeth of the Trinity that one is obliged to conclude that, apart from an immersion in his Epistles, there can be no lasting conversion of souls to Christ, and no authentically Christian mysticism?
To me, the least of all the saints, is given this grace, to preach among the Gentiles, the unsearchable riches of Christ. (Ephesians 3:8)
Paul Gives Me Christ
I began reading Saint Paul as a small boy, withdrawing on quiet mornings into the narrow space between my bed and the wall, and going from discovery to discovery in the New Testament that my father gave me, and that I still treasure. More than fifty years on, I am still reading Saint Paul in whatever quiet space I can find? Why? Because Saint Paul gives me Christ. Because Saint Paul places my soul in Christ, and Christ in my soul. Because Saint Paul, once converted on the road to Damascus, has never stopped converting others to Christ Jesus in the wake of his own experience, and because I need, and want, and have vowed a lifetime of conversion.
And I live, now not I; but Christ liveth in me. And that I live now in the flesh: I live in the faith of the Son of God, who loved me, and delivered himself for me. (Galatians 2:20)