Blessed Francis Xavier Seelos
October 18, 2011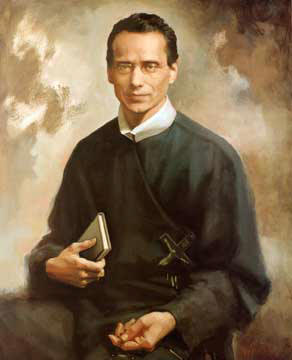 The Cheerful Ascetic
A Redemptorist Missionary priest, Blessed Francis served in various places in the United States during the turbulent years of the Civil War. He was a much sought after confessor, a gifted preacher, and a fervent adorer of the Most Blessed Sacrament. In 1860 Father Seelos' name was put forward as someone who would be a suitable bishop for the Diocese of Pittsburgh. Pope Pius IX excused him taking on this burden. From 1863 until 1866 he devoted himself to the demanding work of an itinerant missionary, preaching parish missions and retreats in English and German in the states of Connecticut, Illinois, Michigan, Missouri, New Jersey, New York, Ohio, Pennsylvania, Rhode Island and Wisconsin.
All who knew Father Francis Xavier Seelos attested to his gentleness and good cheer, even in the face of contradictions and sufferings. Father Seelos died in New Orleans, of the Yellow Fever, at 48 years of age, on 4 October 1867.
From His Preaching: On Divine Mercy
Oh, if only all the sinners of the whole wide world were present here! Yes, even the greatest, the most hardened, even those close to despair, I would call out to them, "The Lord God is merciful and gracious, patient and of much compassion" (Exodus 34:6). I would show them why the Apostles call God the Father of Mercy, the God of all consolation. I would tell them that the prophet in the Old Testament even said that the earth is full of the mercy of God and that mercy is above all His works.
O, Mother of Mercy! You understood the mercy of God when you cried out in the Magnificat, "His mercy is from generation to generation!" Obtain for all sinners a childlike confidence in the mercy of God.
It is not His justice but His mercy which is the motive of your trust. He is the God of all consolations and the Father of mercies. He does wish the death of a sinner but that he be converted and live. He came to heal the sick and to seek those who were lost. He spared the woman taken in adultery. He showed mercy to the thief crucified with Him. He took upon Himself our punishment. He prayed for His murderers. He now intercedes for us at the right hand of God. None of the damned was ever lost because his sin was too great, but because his trust was too small.