Saint Paschal Baylon
May 17, 2011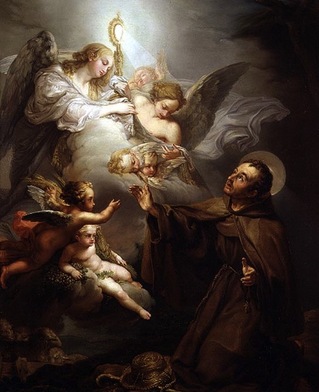 Today was the commemoration of Saint Paschal Baylon, Franciscan laybrother, who died on Pentecost Sunday, 17 May 1592 as he had foretold. Illiterate, Paschal Baylon passed his religious life as the friary's doorkeeper. He is considered, nonetheless, to be "the theologian" of the Most Holy Eucharist, not only for the debates with the Calvinists that he sustained while sojourning in Paris, but also by reason of the writings he dictated concerning the adorable Sacrament of the Altar.
The Blessed Sacrament was the heart of his spiritual life. His biographers recount that during his own funeral Mass, at the moment of the elevation of the Sacred Host and of the Chalice, although the rigidity of death had already set in, he opened his eyes to gaze upon the Holy Mysteries, and so give a final testimony to his love for the Most Holy Sacrament.
Pope Leo XIII declared Saint Paschal protector of all Eucharistic Congresses and Works, giving us good reason to ask his intercession for ADORATIO 2011. Significantly, I think, I completed writing my contribution to ADORATIO 2011 today.
Collect
O God, who didst imbue blessed Paschal, Thy confessor,
with wondrous love for the sacred mysteries of Thy Body and Blood,
vouchsafe that we may likewise receive rich blessings
from this Divine Banquet.