Ego sum vitis, vos palmites
August 7, 2010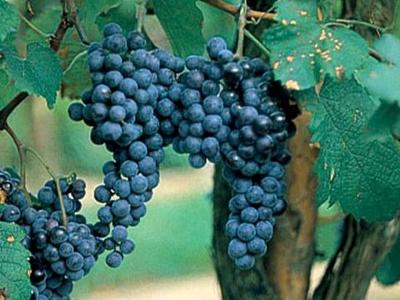 John 15 After Holy Communion
We held the blessing of grapes after Holy Mass, using the Latin text given in Father Weller's Roman Ritual. It brought to mind a time and place in my own spiritual journey, now over forty years ago, when, at 16 and 17 years of age, I used to read John 15 nearly every day as my thanksgiving after Holy Communion. I had a paperback pocket version of the New Testament. A dear friend had made me a special cover for it. After Mass, I would eagerly pull it out and go straight to the discourse of the vine and the branches. I never tired of reading it and, in those moments after Holy Communion, I could almost "taste" it.
I am the true vine; and my Father is the husbandman. Every branch in me, that beareth not fruit, he will take away: and every one that beareth fruit, he will purge it, that it may bring forth more fruit. Now you are clean by reason of the word, which I have spoken to you. Abide in me, and I in you. As the branch cannot bear fruit of itself, unless it abide in the vine, so neither can you, unless you abide in me. I am the vine: you the branches: he that abideth in me, and I in him, the same beareth much fruit: for without me you can do nothing. If any one abide not in me, he shall be cast forth as a branch, and shall wither, and they shall gather him up, and cast him into the fire, and he burneth. If you abide in me, and my words abide in you, you shall ask whatever you will, and it shall be done unto you. In this is my Father glorified; that you bring forth very much fruit, and become my disciples. As the Father hath loved me, I also have loved you. Abide in my love. If you keep my commandments, you shall abide in my love; as I also have kept my Father's commandments, and do abide in his love.
The Magic of Daisy Street
I wonder why I was so affected by this particular passage. Perhaps it was because the reality of a grape vine entered into my consciousness at a very early age. There are still (somewhere) photos of me, at one year of age, being lifted in my father's arms to grasp the bars of the grape arbor in the backyard of my maternal great-grandparents, Giuseppe and Rosina Martino. Their little house on Daisy Street in the Highwood section of New Haven was magical to me. Not only was there the grape vine — under which family meals would take place after a white sheet had been suspended above the table to prevent bugs from falling into the food — there was also a deliciously mysterious cellar where the wine was kept, and where great bunches of basil and oregano were hung upside-down from the ceiling to dry. The fragrance of that cellar has followed me all my life. To this day whenever I smell the fragrance of basil, I am transported back to Daisy Street in the 1950s. Yes, it's all rather Proustian, I know, but apart from that, the experience somehow opened my heart to John 15.