Blessed Abbot Marmion on the Mercy of God
January 30, 2009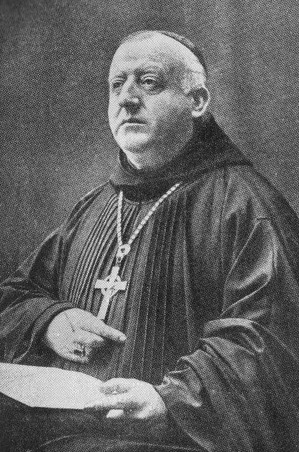 Today, January 30th, is the eighty-sixth anniversary of the death of Blessed Columba Marmion. Dom Marmion's liturgical memorial is observed, not on his anniversary of death, but rather on the anniversary of the date he received the abbatial blessing, October 3, 1909. For that momentous occasion he chose the first Sunday of October, which was kept, at that time, as the Solemnity of the Most Holy Rosary of the Blessed Virgin Mary. Here is a page of Blessed Columba Marmion at his best:
An Economy of Mercy
For some time past God has been making me see in magnificent light that His Majesty's whole plan, His whole "economy towards us is an economy of mercy. It is our miseries which, united to Christ's sufferings and infirmities, draw down all the graces He gives.
Our Miseries Become Those of Christ
God has been giving me for some time past a strong light, and this light is shed over my whole life. When God looks upon this poor world, upon this multitude of the miserable, incredulous and sinful, what does He feel? "I have compassion on the multitude" (Mk 8:2). Our miseries excite His mercy. Not only that, but as we, through our baptism, are members of Christ, our miseries are His. He has taken them all upon Him. He has assumed them and rendered them divine, and the Father, in looking upon our miseries and weaknesses, sees those of His Son which cry out to Him for mercy. "Blessed is he that understandeth concerning the needy and the poor" (Ps 40:2)
God Supplies the Remedy
The abyss of our miseries is very great, greater even than we think. But God's mercy is infinite like God Himself. If we lay open our soul to Him with all its infirmities and sins, His Divine gaze penetrates this abyss of which we cannot see the bottom. His gaze goes into the most hidden recesses and brings us strength and light. There is only this Divine gaze that is able to penetrate into our inmost being and sound the depth of our woes. God alone too can supply the remedy and we may be assured that He will do so.
Union With God, Letters of Spiritual Direction by Blessed Columba Marmion selected and annotated by Dom Raymond Thibaut, is now available from Zacchaeus Press at a special price. I recommend it.