Pro Affligentibus Nos
June 18, 2008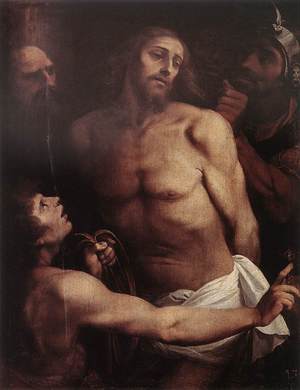 Commanded from the Heart
"I say to you, Love your enemies, and pray for those who persecute you" (Mt 5:44). "Bless those who curse you, pray for those who abuse you" (Lk 6:28). These are not suggestions; they are not pious recommendations. They are clear precepts of Christ: commandments conceived in His merciful Heart and addressed to each of us without exception.
The Prayer From the Cross
It is no coincidence that this Gospel passage should be given us in this month of the Most Sacred Heart of Jesus. One cannot receive the Forgiving Heart of Jesus in the Eucharist and persist in refusing anyone forgiveness. One cannot approach the Pierced Heart of Jesus and not be drawn into His prayer to the Father from the Cross: "Father, forgive them, for they know not what they do" (Lk 23:34).
Obedience
The prevalent culture of options and of personal choices has all but rendered us impermeable to the commandments of Our Lord. We prefer to think of them as suggestions or as "talking points." Contemporary sensibilities in the world and, alas, even in the Church, resent the objective precept, the non-negotiable commandment, the mandate coming from above. A combination of the effects of original sin and actual sins of pride has conditioned us to want to discuss everything, to debate everything, to argue the value of any law coming from above us or outside of us. Our Lord presents us with just such a commandment. It is not a suggestion. It is not open to discussion. It is not the subject of debate. It is a divine commandment. In obeying it, we obey God. In neglecting to obey it, we neglect to obey God.
Blessings and Prayer
Insofar as we consider ourselves disciples of Christ, we are bound to bless those who curse us, to pray for those who speak evil against us. We are commanded to do good to those who hate us. This good that we are commanded to do is, first of all and above all, prayer.
The Prayer of Christ
There is no greater force for good than prayer. There is no better way to do good to those who hate us than by asking the light of the Face of Christ to envelop them and penetrate them. There is nothing more beneficial to those who afflict us than confident recourse to the pierced Heart of Jesus. There is no more powerful blessing of those who curse us than the Holy Sacrifice of the Mass offered on their behalf. For those speak evil against us there is no prayer more powerful than the prayer of Christ the High Priest who, in every Mass, stands before His Father, pleading and interceding for those who approach God through Him.
To Damage, Crush, Break, Ruin, or Vex
Mother Church, with her ancient experience of human nature, provides us with the means of obeying this commandment of our Lord. The Roman Missal contains a Mass specifically for this purpose. It is entitled Pro Affligentibus Nos, "For Those Who Afflict Us." The title of the Mass speaks volumes. Opening my Latin dictionary to the entry for affligo, I see that it means to throw down, to afflict, damage, crush, break, ruin; humble, weaken, or vex. If you have ever felt thrown down, if you have ever felt afflicted, damaged, crushed, broken, ruined, humbled, weakened, or vexed, you need to enter wholeheartedly into the Mass Pro Affligentibus Nos.
The Power of Prayer
There is a mysterious power in praying for those who have hurt us, in interceding wholeheartedly
— for those who have spoken ill of us,
— for those who have damaged our reputations,
— for those who have incited others to think less of us,
— for those who have hurt us emotionally, physically, or spiritually,
— for those who have been abusive toward us,
— for those who have cursed us,
— for those have broken our hearts, betrayed us, or rejected us.
Our Lord commands us to pray for them, not only for their sakes, but also for our own. Our own spiritual liberation, our own inner healing from resentment, hatred, and lingering bitterness is contingent upon our persevering obedience to the commandments of Christ in the Gospel.
The Root of So Much Suffering
Prayer for those who afflict us has, at times, immediate and astonishing results. Persons suffering from physical complaints — chronic illnesses, pains, and weaknesses — have been completely healed after praying sincerely for those with whom they are at enmity. Persons suffering from emotional illnesses — depression, chronic jealousy, addictive patterns of behaviour, and irrational fears — have been liberated from these after obeying Our Lord's commandment to pray for those at the root of their suffering.
Conquerors Through the Sacred Heart
Prayer for those who afflict us sets in motion concentric circles of reconciliation and healing. In praying for those who have hurt you, place no limits on the munificence of God. Ask boldly. Beg God to overwhelm them with His choicest blessings, to make them profoundly and truly happy in this world and in the next. This kind of prayer, made in obedience to the commandment of the Lord, radiates an invisible but supremely efficacious love: the very charity of God "poured into our hearts by the Holy Spirit which He has given us" (Rom 5:5). "In all these things we are more than conquerors through Him who loved us" (Rom 8:37)., conquerors, that is, through the Sacred Heart.